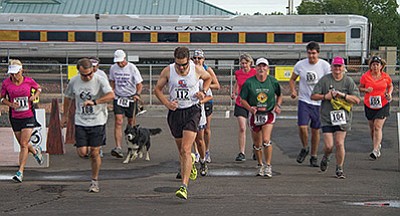 Originally Published: August 23, 2016 8:10 a.m.
WILLIAMS, Ariz. - The sixth annual Mountain Man Run will take place Sept. 5 in downtown Williams.
The event features a 10K, 5K and two-mile fun run/walk and is hosted by the Williams Lions Club. Proceeds from the event will be used to provide support to qualified individuals needing eyeglasses.
Past coordinator Jackie Haugen said the group uses the money for vision care and to help support youth groups in the area and Camp Civitan
According to Haugen, one of the focuses for the Williams Lions Club is helping disabled youth and disabled folks in the community.
She said the group likes to serve and help make the community better.
Last year the run had more than 60 runners and the group hopes to get the word out and get more runners this year.
Additionally, the run has received community support and local sponsorship for the event, with raffle prizes from various businesses. Sponsors for the event include Sprouts, Williams Wear, Highland Meadows Realty, L.A. Development, Highland Meadows Quilter, Coconino County Supervisor Matt Ryan, Old Trails True Value and Williams Masonic Lodge.
Regular entry is $40 for the 10K, $30 for the 5K and $15 for the two-mile fun run/walk. Same day registration is welcome. Those running the 10K and 5K will receive a t-shirt.
Registration on the day of the event will be at the Williams Recreation Center. The run starts from the Williams Visitor Center stage, with sign in at 7 a.m. and runners taking off at 7:30 a.m.
The top three runners in the 10 and 5K event will receive a coonskin hat and certificate. More information and registration information can be found at https://register.chronotrack.com/r/19832.
Runners and spectators will have an opportunity for photo with Bill Williams Mountain Men.
The Lions Club is seeking volunteers and sponsors. Volunteers receive a t-shirt and need to be at the Williams Recreation Center at 6:45 a.m. on race day. Sponsors and volunteers can receive more information from Patty Williams at (928) 853-4974.