Grand Canyon superintendent addresses sexual harassment by NPS employees on Colorado River
Originally Published: April 12, 2016 11:41 a.m.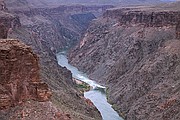 GRAND CANYON, Ariz. - "I'm here with my heart in my throat a little bit right now," said Grand Canyon Superintendent Dave Uberuaga during a presentation at the annual Guide Training Seminar in Marble Canyon April 2.
Although Uberuaga has addressed members of the Grand Canyon river guiding community for the last five years, this time it was different. He directly talked about the long standing history of sexual harassment and hostile working environment on National Park Service's (NPS) river trips.
"I really want to talk to you all about the important things of being a leader at Grand Canyon National Park...after I talk about the threats I will talk about and answer all your questions in and around the Office of Inspector General and the Investigation of the river operation," Uberuaga said.
At the Guide Training Seminar, put on since 1989 by Grand Canyon River Guides in cooperation with Grand Canyon National Park and the commercial river outfitters, Uberuaga broke his presentation into several areas talking first about park related issues, followed by the important voice of the river community and protecting the culture of the river before speaking about the sexual harassment.
Following an investigation by the Office of Inspector General (OIG), a report was released with 13 former and current NPS employees reporting sexual harassment and misconduct on the Colorado River by their coworkers and supervisors. The employees worked on the River District and said sexual misconduct had been going on for over 15 years.
According to the report, Uberuaga and his deputy superintendent were aware of the allegations and did not take appropriate action.
At the event Uberuaga stood before a crowd of more than 200 river guides and operators and apologized, taking full responsibility for breaking the trust of the public and the river community. He promised to do whatever was needed to reestablish that trust.
"What has happened is not acceptable. What has happened should have never happened and I'm damned to determine as a leader to make sure it never happens again. I'll do my best to put assurances in place, whatever it takes to re-build your trust, to re-build a commitment to this special place that we all have," Uberuaga said. "Your trust was violated in those incidents, your trust and the public's trust was violated and I try to go back and I say, 'what do we need to do?' There is a long list of things that we're going to begin to do, but I wanted you to know that I take responsibility for that and I own it and I'm damn determined to do something about it, personally, professionally and with all the energy that the park service has to make this change."
Uberuaga's statement was received with clapping and cheers from the crowd.
John Dillon, executive director of the Grand Canyon River Outfitters Association (GCROA), a non-profit trade group made up of the 16 commercial river outfitters contracted with NPS, said with the exception of a few, the majority of the river community has a high regard for Uberuaga.
"I think the vast majority are very appreciative and supportive," he said. "I think there's definitely a certain amount of disappointment. Who's not disappointed that a federal agency would know of and drop the ball in managing their employees?"
Dillon said while the sexual misconduct on the river is entirely park specific, commercial river running outfitters are willing and ready to help in any way they can.
"This has nothing to do with us, it's a park issue, park employees, park management, park policies and park trips," he said. "We have offered our support and said we want to be part of the solution, whether it be a part of the solution on what do while there's no river district or part of the solution on how do we partner and re-train everybody to ensure all policies, everything is compliant and safe and legal."
During his speech, Uberuaga promised changes and a zero tolerance for any hostile work environments in the Canyon and said he will do whatever is necessary to make sure those type of incidents never happen again.
"We need to create, I need to create a culture of zero tolerance for that kind of activity here at Grand Canyon whether it's on the river or any place," he said. "As superintendent I will, I will work really hard and what I want you to know is this, my personal commitment to work together. I need you. We need to work together. I'm going to be consulting with some of you to say, 'what are those things, in your mind that build in those assurances that we need to have?'"
Members of the audience had mixed responses to Uberuaga's message, asking him why boatman number three, who was outlined in the OIG report as a perpetrator in the sexual misconduct charges, was still working at the park.
Uberuaga said he understood the concern but through legal processes, 'we all have a little bit of legal protections.'
"That's why I've asked the Washington D.C. team to specifically look at all the past HR decisions and disciplinary actions and the scope and detail," Uberuaga said. "But I totally understand the feelings toward that person, who you know well, and that's my responsibility and I'm working on it. I clearly, clearly hear your voice and many others about the concern for that individual."
Dillon said many people want to know why the Park Service has not "cleaned house."
"If this was the private sector, this guy would have been terminated instantly," Dillon said. "Maybe put on administrative leave or removed from the work place, that kind of thing. Everybody's still wondering why that guy still has a job?"
Uberuaga also issued a general warning saying that right now NPS is in the spotlight for sexual harassment but it would only take 'one sad incident' to blow things up again.
"Take that and remind yourselves when you're on the river," he said. "We all need to make sure and protect, that's the bottom line, it's about protecting each other in good work, in good faith, good responsibility to take care of each other," he said. "If we can do that one on one to make sure it doesn't happen (future incidents) then a lot of things can fall away from that but if we don't it's only going to take a sad incident for us all to be looking at it again."
Dillon said he has encouraged commercial outfitters to take a fresh look at their policies, their training and their human resources to ensure everybody knows what is expected of them and have been properly trained on what's appropriate and what's not.
"Everybody is committed to do that," he said. "I think the private sector is much better equipped and trained and concerned with (sexual harassment) than it appears the park service was. However, we've all been reminded, and I've reminded our companies, to go back and review our policies, maybe dust it off if it hasn't been looked at for awhile by some legal minds or legal assistance, to make sure everything is current, make sure we've included it once again in all our annual spring training. Just to refresh everybody on company policies."
Uberuaga went on to say that all personnel actions over the last three years will undergo review by an independent Washington D.C. National Park Service human resource specialist and an external review of NPS river operations by an NPS external expert team is planned.
In March, Uberuaga made the decision to abolish the NPS river district at Grand Canyon.
Dillon conceded that the river community has had hard questions for Uberuaga, but said they were needed to help re-build the trust that Uberuaga is asking for.
"I know he's in a very tough spot because I'm sure his superiors are telling him not to speak to it and let the administrators and legal process take its course," Dillon said. "Under all the circumstances he was placed under I thought he did a great job (to) at least acknowledge, apologize and be straight with everybody on where it stands today."
Uberuaga asked the river community for their support, saying he is committed and determined to fundamentally changing the culture that allowed past abuses on the river.
"It's a high expectation but in a way it's the minimal expectation and that is to increase accountability," he said. "I've talked to a number of you here and said, 'how could that happen? How could that one person and this person and that person get away with things like that?' And really you have to break down the structure, you have to break down the accountability and you have to keep asking yourself, 'how and why did that happen?' Then you have to go over here and map a new way to make sure that never happens again. That really is what my challenge is. Once again, I apologize for the past and I ask for your support as we put together new faces in place, new rules and a new program to rebuild your trust."
SUBMIT FEEDBACK
Click Below to:
More like this story