Cruzing to a win: Williams Vikings run past El Capitan for 58-6 win

Originally Published: September 22, 2015 5:10 p.m.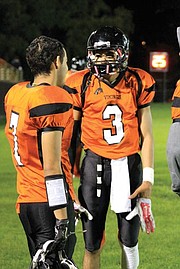 William, Ariz. - Cruz Pearson rushed for 117 yards to help the Williams High School Vikings beat El Capitan 58-6 in Colorado City Sept. 18.
"He was our workhorse on Friday," said head coach Jeff Brownlee. "He did an outstanding job."
Brownlee said the Vikings handled the football game from start to finish, but El Capitan played a good solid game. He said they were a bigger challenge than the previous game against Telesis Prep.
"They played four quarters of good football," Brownlee said. "They would actually come up and hit us...they made us work for them."
Brownlee was happy to have some competition after having a by-week and an easy game against Telesis Prep. He said the kids needed to get out and have players hit them back.
"Our kids played hard and it was a nice warm afternoon game, " Brownlee said.
Brownlee said he was impressed with the Viking's passing game. He said there were a total of four touchdown passes. Three of those passes were from starting quarterback Martin Soria, who passed for 126 yards. The other passing touchdown was from backup quarterback Diego Pedraza.
"We have established a pretty good running game but when teams start playing us with six people in the box we need to be able to start throwing the ball," Brownlee said. "We needed to work on our passing game and the kids did very well with that."
Brownlee said El Capitan only had one touchdown, which was on a punt return.
"We had a little breakdown of our special teams," Brownlee said.
Brownlee said that despite the lopsided score, the Viking defense played tough throughout the entire game. They did give up yardage on another kick return in the third quarter, but the Vikings held El Capitan.
"They were at the three-yard line," Brownlee said of El Capitan. "Our team held them from scoring because of good goal line defense. So that's good to see kids with a lot of heart who didn't allow them into the end zone."
The Vikings were conscientious of the flash-flood tragedy that struck Colorado City last week and brought a giant sympathy card they presented at half-time to the community.
"That was something pretty neat from our student body," Brownlee said.
Brownlee said the game against El Capitan was a good test before facing Mayer on Sept. 25. He said Mayer is coming off of a loss last week to Joseph City and he is sure the kids will come to Williams ready to play.
"Its going to be our first big challenge in our section so were excited and the kids are excited," Brownlee said. "We should have a nice homecoming game. If the kids play hard we should be able to win this football game."
Stats leaders:
Martin Soria completed eight passes in 14, for a .571 completion, gaining 126 yards and two touchdowns.
Cruz Pearson carried 15 times for 117 yards, average of 7.8 yards, longest at 20 yards and three touchdowns.
Tate Grantham caught four receptions for a total of nine yards and one touchdown.
Zach Perkins caught four passes for 94 yards and two touchdowns.
Pedraza carried the ball 11 times to gain 89 yards with an average of 8.1 yards and one 50-yard run.
SUBMIT FEEDBACK
Click Below to:
More like this story