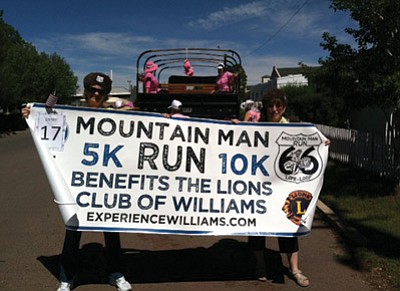 Originally Published: September 1, 2015 11:47 a.m.
WILLIAMS, Ariz. - The fifth annual Mountain Man Run will take place Sept. 7 in downtown Williams.
The event features a 10K, 5K and two-mile fun run/walk and is hosted by the Williams Lions Club. Proceeds from the event will be used to provide support to qualified individuals needing eyeglasses.
"We are using the money for our top priorities (which are) vision care, to assist folks who can't afford to buy new glasses to get their eyes checked," said Jackie Haugen, coordinator for the run. "We help with that and then we also help with youth groups in the area and Camp Civitan."
According to Haugen, one of the focuses for the Williams Lions Club is helping disabled youth and disabled folks in the community.
"Any community activity that's going on, we like to serve and help in any way that we can to make our community better," she said.
Last year the run had more than 60 runners, they are hoping for twice as many this year.
"We are working really hard to get the word out so that we have more runners," Haugen said.
Additionally, the run has received community support and local sponsorship for the event, with raffle prizes from Bearizona.
"We have quite a few of our businesses in town who are sponsoring," Haugen said. "We appreciate that."
Around 15 middle school cross country runners will be running in their team shirts for the event. Any teams wearing their team shirts can sign up for the event for $15. Regular entry is $40 for the 10K, $30 for the 5K and $15 for the two-mile fun run/walk. Same day registration is welcome. Those running the 10K and 5K will receive a t-shirt. Team runners who want a shirt will need to pay the full entry price.
"We are working hard to make this a great event and to make it a little bit better every year," Haugen said.
Registration on the day of the event will be at the Williams Recreation Center. The run starts from the Williams Visitor Center stage, with sign in at 7 a.m. and runners taking off at 7:30 a.m.
The top three runners in the 10 and 5K event will receive a coonskin hat and certificate. More information and registration information can be found at https://register.chronotrack.com/r/12000.