Trash dump or forest:Illegal dumping takes its toll
Many forest roads in Williams and Ash Fork areas littered with trash and household items

Originally Published: August 25, 2015 8:07 a.m.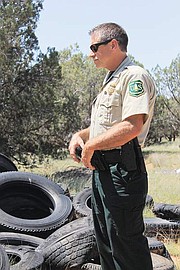 WILLIAMS, Ariz. - A recliner, a mattress, five couches, 25 tires, a pile of shingles, a water tank, soccer cleats, a Nerf gun, and five teddy bears. A stroll down the aisles of Wal-Mart? No, it's all off Kaibab National Forest Road 124 north of Ash Fork.
Visitors come to Northern Arizona for the clean air, blue skies, rustling Ponderosas, and sparkling lakes.
They like to camp, hike, picnic and fish. But trash litters many Forest Service roads in the area.
"Who's going to camp here now," said National Forest Patrol Captain Jon Nelson. "Who's going to bird watch or...take their family out and picnic in the middle of a dump?"
Despite the educational efforts of Forest Service managers, illegal dumping on public lands is still a common problem. Managers believe there are a variety of reasons that people continue to dump their garbage, furniture, cars, and other household waste on open land.
"I think the convenience is more often than not the reason," Nelson said. "The dumping fees may be part of it. It's also the broken windows theory, someone sees it and they get the idea 'that guy did it, its not so bad if I go do it.'"
According to the Environmental Protection Agency (EPA), the most common items dumped are household waste including furniture, mattresses, garden waste, car bodies, tires, building waste and animal carcasses.
Nelson said that 16 citations were issued for sanitation violations on the Kaibab last year. Those cases ranged from large dumping of items on remote roads to waste left behind by recreational campers.
"Bringing any type of property on to national forest land for the purpose of abandoning is a violation of our regulations," Nelson said. "It falls under a class B misdemeanor, up to a $5,000 fine and/or six months in jail. But if our officer came across this (large dump area) we would write up mandatory appearances if we identify who did it."
The National Forest Service spends thousands of dollars and countless hours cleaning up waste.
"It takes money and time and resources from all the other work that we should be doing," said Kaibab Public Information Officer Jackie Banks. "We've had volunteer groups come in and help us, the problem is that often it just happens again and again. It's a lot to keep up with."
Some people believe that dumping trash on public lands is no different than taking items to a city dump. However, carefully designed landfills isolate trash from the surrounding environment. This usually involves a bottom liner and a daily covering of soil. Many cities and counties also have recycling centers and hazardous waste disposal areas to separate the trash.
Tires are also a common item left on public lands. Recycled tires can be reshaped or ground down and used in casters, lawn mower wheels, toys, rubber bands, engine belts, basketball courts, shoes and asphalt.
Often people don't realize that their waste is actually hazardous material.
National Forest Engineer Anne Fischer said a large portion of her job is dealing with hazardous waste left on forest lands. When a hazardous waste site is found, Fischer is sent out to evaluate it and then hire contractors to deal with it.
"Petroleum products and paint are the most common items we find," Fischer said. "Any items with flammability characteristics we don't want out there. Its considered a pollutant for water. We don't want it in our ground or surface water."
Some people wonder why oil can't be dumped on the ground since that is where it originally came from. But according to the EPA, motor oil is insoluble, persistent and can contain toxic chemicals and heavy metals. It's very slow to degrade and is a major contamination to water supplies.
Coconino and Yavapai Counties have several options for dealing with household and commercial waste. Coconino County has a landfill and hazardous waste center. Yavapai County has the same facilities. The city of Williams has a local transfer station and curbside garbage pickup. Ash Fork does not have a local transfer station, but residents can use Williams or the Paulden Transfer Station. Ash Fork does have curbside pickup service.
"We help our customers out when they move," said Brian at A and B Disposal in Paulden, who provides service to Ash Fork residents. "They can leave a big load with their regular can and we will pick it up at no extra charge."
Forest managers hope that residents and visitors will use proper waste management facilities to deal with their refuse. Banks and Nelson want people to know that convenient and fairly inexpensive waste facilities are available nearby.
"We do want to emphasize the whole 'leave no trace land ethic,'" Banks said. "We want people to come enjoy, recreate and pick up after yourself when you leave."
"We also want people to know that if they see someone dumping garbage, to give us a vehicle description, a description of the people and a license plate if they can do so safely and we will follow up on all reports." Nelson said.
SUBMIT FEEDBACK
Click Below to:
More like this story