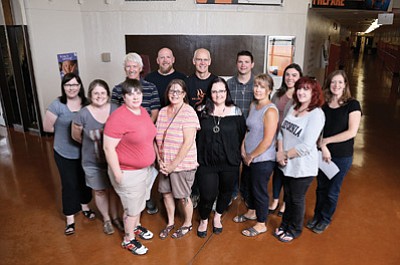 Originally Published: August 11, 2015 12:44 p.m.
Williams, Ariz. - Williams Unified School District welcomed 13 new teachers this year. The News asked them to introduce themselves to the community.
Linda Honsinger
Linda Honsinger is a first grade teacher at Williams Elementary-Middle School (WEMS). She grew up in the suburbs of Philadelphia and moved to Arizona to attend Northern Arizona University (NAU). She received her Early Childhood Education degree and a master's degree from the school. She has taught for 21 years, 17 of those in the first grade at Heber-Overgaard. She loves music, art and traveling. She likes to make learning fun and looks forward to meeting her class. Honsinger is the wife of Superintendent/High School Principal Richard Honsinger.
Heather Windham
Heather Windham is the new Life Skills teacher at Williams-Elementary Middle School. She grew up in Arizona and previously worked for the Flagstaff School District. She likes to hike, read and draw. She is eager to get to know Williams and her students.
Kim Dodds
Kim Dodds is the 6-8 grade language arts teacher at WEMS. She grew up in rural Oregon and went to college at NAU. She previously worked for the Forest Service and spent the last 15 years working in the Flagstaff School District. She has lived in Williams for 14 years and enjoys being with her family, traveling, gardening, and hunting. This is her first year teaching middle school and she is excited to work with her new students. She has high expectations and goals for her students. She wants to have a safe and caring environment for her students. She does not hesitate to modify her curriculum to reach all of her students and wants them to develop a passion for learning.
Sharon Potter
Sharon Potter is the art teacher for the distirct. She grew up in New York and California. She previously worked with learning and behaviorally challenged kids in daycare and at WEMS. She also worked for Coconino County Juvenile Detention. She most recently taught Art at Sedona Sky Academy and worked as a substitute at FUSD. She enjoys art, reading, photography and fishing. She hopes to get to know her students and find positive ways for them to express themselves. She wants her students to have a desire to learn and believes that students who take art improve across the board in other subjects.
Megan Courtney
Megan Courtney is a history/drama teacher at Williams High School (WHS). She grew up in the suburbs of Chicago. She graduated from the University of Illinois with a degree in history and a minor in secondary education. She has worked as a camp counselor and most recently as a social studies teacher at Kayenta Middle School. She spent this summer at Navajo National Monument as a ranger-teacher. She looks forward to meeting her new students and teaching world history again. In her teaching, she hopes to connect the local community with the lessons and school. She is working on a master's degree in English Language Learning.
Trish Smith
Trish Smith is a science teacher at WHS. She grew up in Albuquerque, New Mexico and worked in the medical field for 20 years before becoming a teacher. She worked for 14 years as a science teacher, most recently in Chino Valley. She and her husband live on a ranch between Ash Fork and Seligman. She likes art, animals, hiking, reading, writing and making jewelry. She looks forward to meeting her students. She wants them to know that if they work hard then anything is possible. She likes the quote, "learn from the past, live for the present and plan for the future."
Clint Keller
Clint Keller is the WEMS science teacher. He was born and raised in Kingman. He and his wife, Loni have two grown sons. Mr. Keller worked in the electronic repair business for 20 years. He taught electronics at Mohave Community College and worked for a company repairing arcade games. He has a bachelor's degree in science and master's degree in administration. He has taught high school science for seven years and worked in administration for eleven years. Mr. Keller likes to read and is fascinated with astronomy. He taught astronomy at the high school and college level and as a child dreamed of becoming an astronaut. He hopes to get his students excited about science by allowing them to not only read about it, but also experience it. His goal is for students to understand science at a deeper level.
Michael Lee
Michael Lee taught second semester science courses last year at WHS and begins this year as a science/career preparation teacher. He previously taught math and science at Marcos de Niza High School in Tempe.
Kelly O'Toole-Lee
Kelly O'Toole-Lee is a government, economics, and American history teacher at WHS. She was raised in Michigan and Tempe. She worked in real estate prior to becoming a social studies teacher in 2001. She has bachelor's degrees in history and religious studies. She has 36 hours towards a master's degree. She enjoys reading, genealogy and writing. She likes to meet students where they are and tries to help them achieve self-actualization.
Jackie Carlile
Jackie Carlile is the culinary arts, foods, fit kids, and career prep teacher at WHS. She grew up in Rochester, New York and graduated from Paul Smith's College and Rochester Institute of Technology. She worked eight years in the food service industry and taught at the Art Institute of Phoenix and Phoenix Day School for the Deaf. She enjoys soccer, snowboarding, football, cooking, and reading. She believes that students come first.
James Powers
James Powers is the counselor at WHS. He grew up in a small town in Ohio. He earned his bachelor's degree in English and Secondary Education from Kent State University. He helped build a charter school for students who had been expelled or were suspended in inner city Cleveland. He also worked at Alice Cooper's Town in Cleveland. He went back to school to become a school counselor and taught high school and college level courses. Powers likes to play disc golf, hike, canoe and write. He hopes that WUSD can become a school where students' success becomes an example for other schools to model. He is exited to work with the youth of Williams and be in a small tight community.
Joshua Bukowiecki
Joshua Bukowiecki is a fifth grade teacher at WEMS. He grew up in Bellflower, California and finished school in Surprise. He has been a swim instructor, building manager and event planner. He enjoys rollerblading, swimming, traveling and theme parks. He hopes to inspire students to be all they can be. He believes that if you show a child love, the rest will follow. He is excited to be a part of this school and community.