Williams: an unlikely bird haven
Kaibab Ranger District home to Great Blue Herons, Cormorants, Osprey as well as eagles, hawks, falcons and owls

Originally Published: August 11, 2015 11:59 a.m.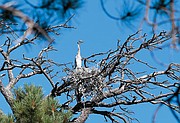 WILLIAMS, Ariz. - On an early summer morning, Cataract Lake is so calm that the tall Ponderosa Pines on the shore are reflected in the glassy water. At the picnic area, the camp hosts begin to stir, but no other lake visitors are present.
Waiting near the grass-lined shore, Kaibab National Forest Wildlife Biologist Justin Schofer locates a fledgling Great Blue Heron in a high dead pine tree.
"There were two there yesterday," Schofer said. "One must have fledged since then."
Despite the ongoing drought, fishermen and other Kaibab National Forest users are privy to view a range of local and migratory birds this year. Great Blue Herons, Cormorants, Osprey and numerous species of ducks are just a few of the birds that can be seen on lakes throughout the Kaibab.
Great Blue Herons are well adapted to the area with their unique characteristics. They have specially shaped neck vertebrae the allow them to curl their neck into an S shape for aerodynamic flight and striking of prey. They hunt day and night due to an abundance of photoreceptors in their eyes that improve night vision. They are also remarkably light, weighing only five to six pounds, due to their hollow bones (like all birds have).
"The herons can be very noisy, so that's sometimes how you can find them," Schofer said. "Especially if there's a rookery."
Many locals and visitors to the Kaibab have been able to observe the Double-crested Cormorants in their rookeries in the past few years. The loon-like all black birds with yellow bills were often seen in groups of up to 25 nesting in dead trees.
"They are a colony nesting species," Schofer said. "They hunt and fish in a group as well."
Osprey can also be found on the lakes of the Kaibab. They are at the top of the food chain and they almost exclusively eat fish. They can dive into the water at 40 miles an hour and are the only raptor that will completely submerge to pursue their prey. Osprey were one of the first indicators of the damage from the insecticide DDT in the 1970s, which thinned the birds' eggshells, killing their embryos. The population, along with Peregrine Falcons plummeted across the globe. When DDT was banned, Osprey numbers slowly increased.
According to Schofer, the Arizona Game and Fish Department (AZGFD) was heavily involved in the recovery effort for Osprey on the Kaibab. They placed artificial nesting structures at several of the lakes to encourage nesting.
"Folks that were here back in the 70s probably can remember suddenly not seeing any Osprey," Schofer said. "Slowly, over time that's changed. We're seeing them every single day now. There's two active here, five active at Kaibab, five at White Horse, and a new nest at Scholz Lake.
"What is interesting about the Great Blue Heron and Osprey is the link between their health and the stocking of the lakes by our sister agency Game and Fish. Without the stocking, these species would crash."
The Kaibab is also home to a variety of eagles, hawks, falcons and owls that cruise the forests and cliff faces. One of Schofer's main duties is to protect threatened, endangered and sensitive species on the Kaibab. He monitors projects such as road construction, campground construction, wildland fire, and forest thinning to eliminate or mitigate the effects on these species.
"A lot of our energy goes into figuring out where active nests are and (determining) how successful they were each year in breeding," Schofer said. "And protecting their habitat. We don't just draw a bubble around them and say, 'You can't treat there.'"
The Williams Ranger District is also home to a handful of Peregrine Falcon nests.
"Their populations are increasing," Shofer said. "I saw a pair a couple weeks ago on Bill Williams, it's more than likely that there's more than we know about."
Schofer said that Peregrines need cliff habitat to nest. They need that isolation, away from predators that the cliffs provide. He is concerned about the new pair on Bill Williams. The Forest is unsure whether they are nesting near a new rock climbing route. The Forest is considering doing a closure order, possibly just a voluntary closure. He said when routes are near nesting Peregrines the forest service gets in contact with local and state climbing groups and educates them about the problem.
"Climbing groups are usually pretty amenable to these things," Schofer said. "If we could seasonally restrict access area to that area from April to June that would give the birds long enough to fledge. The problem is that when the nestlings (who can't fly) get scared they will actually run off the cliff to their death when they get startled by a climber."
One of the main species that Schofer deals with is the Mexican Spotted Owl, which is a federally-listed threatened species found on the Kaibab. According to the U.S. Fish and Wildlife Service, Mexican Spotted Owls live in old growth forests and are affected by barred owl encroachment, great horned owl predation, low reproductive success and low juvenile survival rates.
"It's easier to monitor (Mexican Spotted Owls)," Schofer said. "Because we have a such a comprehensive effort over time. Things change every year, but the birds will keep coming back to the same area or an area nearby. We have a pretty good handle on where they are in the forest. If we find a new pair we draw up a PAC (Protected Activity Center). We make an effort to determine if they're nesting in order to determine their yearly reproductive success."
The more difficult bird to monitor is the Northern Goshawk. According to Schofer, the Northern Goshawk is considered a regional forest sensitive species. They are being studied extensively on the North Rim of the Grand Canyon and they are a frequently seen around the Kaibab.
"They're not in jeopardy of being listed," Schofer said. "But with all this intensive management such as 4FRI, FWPP in Flagstaff and Bill Williams Mountain Restoration Project we're just trying to make sure we don't drastically alter the habitat too quickly for them. They're tricky, they are not easy to survey for. They are very weary of people and tend to dive-bomb anyone who is too close to a nest."
During the spring and fall migrations, a large variety of shoreline birds can be found at lakes around the Kaibab. Schofer said that Davenport Lake is one place to view a variety of birds typically found in shoreline communities.
"This year Pelicans showed up," Schofer said. "If we have aquatic invertebrates, we get a variety of migrant birds that come here. You can see other shorebirds too like Willets, Sandpipers, and Greater and Lesser Yellowlegs."
Despite being landlocked, migration brings a lot of aquatic birds to the area.
"Sometimes you can see 15-25 different species," Schofer said. "Scholz Lake is a huge resource for that. It's hard to get to, it's a little off the path, but if you're there in the morning during spring migration there's just endless possibilities of what you could see."
SUBMIT FEEDBACK
Click Below to:
More like this story