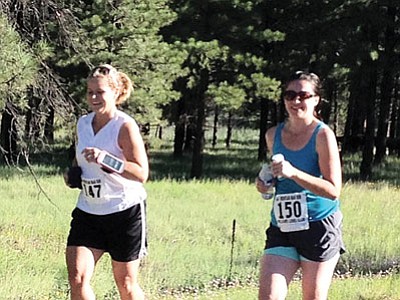 Originally Published: September 9, 2014 10:43 a.m.
WILLIAMS, Ariz. - The fourth annual Mountain Man Run took place this past Labor Day. Forty-two chip-timed runners crossed the finish line. An additional 20 individuals participated in the Fun Run. The event this year included several runners joined by their family dog. It was difficult to tell which enjoyed the run more: the participant or the canine.
In addition, there were several community members who volunteered. Their assistance was vital to ensuring a safe run environment. Many have participated as volunteers since the first annual Mountain Man Run. Without their continued help, the run would not be possible.
The City of Williams crew provided cones and signs to make the event easier for the runners to compete safely. The Williams Police Department was present to maintain overall protection to the Mountain Man participants. The Citizens of Williams drove slowly and carefully while near the runners, which everyone greatly appreciated. Some drivers even honked to show their support.
All participants of the Fun Run were winners. They had a healthy two mile walk/run with family and friends. This year, a group of six members of the "Fight Like A Girl" Cancer Awareness group made an appearance dressed in pink. A special award was given to Quentin Metz who ran the Fun Run race in 15 minutes and 15 seconds. Just as the 5K and 10K winners do, Quentin received a coonskin hat.
The runners came to Williams to participate in the Mountain Man Run from distant locations like Yuma, Peoria, Prescott/Chino Valley and Pagosa Springs, Colorado. The Lions Club hopes local Williams and Flagstaff runners will continue to support the race by inviting their friends and family members to run next year. The run will be on Labor Day 2015 at the Williams Chamber of Commerce parking area.
Of special note, the Williams Mountain Men appeared at the beginning of the race to shoot their rifles and encourage all of the runners to do their best. Mayor John Moore was also on hand to welcome the participants to Williams and to wish them much success in their individual races. It was a great day for Williams and the Williams Lions Club. The proceeds from this event will be used to provide support to qualified individuals needing eyeglasses. The Lions Club will also use the proceeds to respond to requests from Williams youth groups needing assistance with qualified activities.
Several local businesses provided sponsorship for this event. They include: Colors of the West, Dr. Rosales, Podiatry, Williams Wear, L A Development, Marty and Leyder Ness, Highland Meadows Realty, and BSA Troop 140. Bearizona advertised the event on their signage.
More like this story