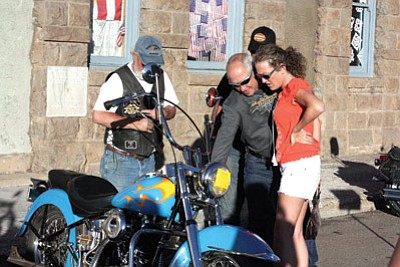 Originally Published: July 8, 2014 11:13 a.m.
WILLIAMS, Ariz. - When given the choice of returning to Williams for the Harley Owners Group (HOG) Rally next year or going to Yuma, the Arizona HOG Chapters voted at the end of this year's rally to go to Yuma.
About 450 bikers registered for this year's rally, which took place June 5-7 in Williams.
Williams played host to the HOG rally from 2000 to 2006. After that the rally took place in Tucson from 2007-2009. From 2010-2012, the event returned to Williams before moving to Yuma last year.
Williams-Grand Canyon Chamber of Commerce President Gioia Goodrum said she was unsure of why the HOG members chose Yuma over Williams.
"I thought it was a good rally. We all worked really hard on that event," she said. "I think they want to move it around the state and so they chose to go to Yuma. And that was why it left a couple of years ago too."
Kyle Bitzer, the general manager of Grand Canyon Harley Davidson in Bellemont, served as the HOG chapter liaison for the rally. Bitzer also thought the rally went well.
"You always get mixed reviews," he said. "They had a good number of people there. A lot of people I talked to had a good time. It's a beautiful area. Let's face it - Williams has always been good to motorcycles and tourists and provides a great backdrop for an event like this."
Bitzer, who did not participate in the vote, added that he didn't hear any specific reasons as to why the voting members chose Yuma.
"It's not unusual for cities to change," he said.
When asked about the lack of bleacher covers at the Rodeo Grounds where the HOG Rally's bike games took place, Bitzer said that could have been a drawback for some attendees.
"That did get brought up when we had the vote that the city had committed to this, but I think most of us also understand the financial restraints that cities are under right now," he said. "Would it have been nice? Yeah. Did anybody say that's the reason it went to Yuma? No, not to me at least."
This year, several of the rally's events took place in the Williams Visitor Center parking lot. During previous HOG rallies in Williams, the vendors and some of the events were located along Route 66. In Bitzer's personal opinion, that location would have improved this year's HOG rally.
"I think people on both sides, the businesses and the participants, were probably a little I guess dismayed because it wasn't right in the heart of downtown," he said. "You guys have a great nighttime atmosphere down there, and I think that would just make this thing a bigger hit and harder to drag away from Williams."
Despite the rally moving to Yuma next year, Bitzer was optimistic about the event returning to Williams in the future.
"Do I see it coming back? Oh heck yes," he said. "People love coming up here. Those who live in the Valley love the temperature. They like the small town atmosphere. They like being so close to mountains, trees, Grand Canyon-what a variety up here. It's a great, centralized area to break out and go see different touristy things. Williams is probably one of the perfect places to do it and that's why it comes back so often."
More like this story