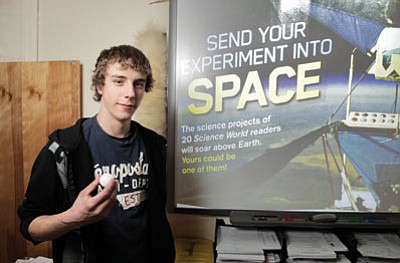 Originally Published: March 5, 2013 12:21 p.m.
WILLIAMS, Ariz. - Experimenting in space isn't just for astronauts anymore. One Williams student is getting the chance to send his experiment to space after winning a magazine contest.
Williams High School junior Timothy Rautenberg entered the contest in Jessica Heisley's science class.
Science World magazine put on the nationwide contest, and Rautenberg was one of 20 winners nation-wide. For the contest, students had to create experiments that fit inside a ping pong ball. Those tiny experiments are called PongSats, and the top 20 will be sent to space.
JP Aerospace runs the PongSat project. Next month, the company will launch a balloon from Nevada carrying the ping pong balls. The balloon will travel 12 miles into the atmosphere with the goal of determining how space affects the experiments, according to a Science World article about the project.
Rautenberg's idea was to send soil to space in a PongSat.
"Well, I chose dirt, like a soil kind of, because they said they sent seeds up and it kind of made bigger foods and stuff like that but it wasn't really working," he said. "So I figured maybe send dirt up there and it would absorb radiation and then you could plant a seed into it and maybe it would grow bigger."
All of Heisley's students entered the contest. Students were required to develop an experimental plan, write an essay about it and send in pictures of their experimental setup, Heisley said.
Rautenberg said he was not expecting to win.
"I'm glad I'm getting the experience to do it," he said. "I'm hoping it will work. I think (the seed will) grow bigger."
After the balloon's trip to space, Science World and JP Aerospace will send Rautenberg a DVD of the PongSat launch along with his PongSat.
"When we get this back...we'll do the experiment as a class," Heisley said. "We'll see what happens and then we can report back to JP Aerospace or the Science World people and tell them, because they're interested to see what happens."
Rautenberg is excited to see what happens too.
"I just don't know what kind of seed to put in it," he said. "That's the decision."