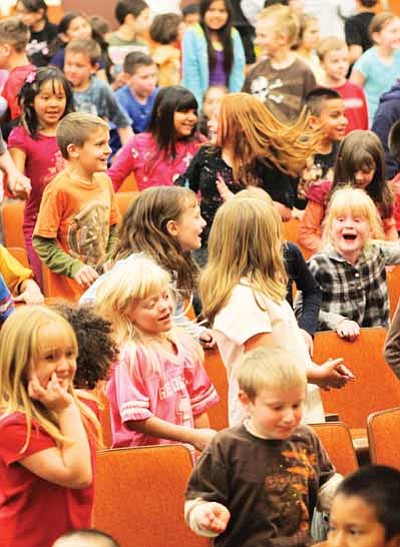 Originally Published: July 19, 2011 10:23 a.m.
WILLIAMS - Williams Elementary-Middle School (WEMS) may have lost their music program, but thanks to a special program managed by the Flagstaff Symphony Orchestra (FSO), students will still have plenty of reason to turn up the volume.
WEMS has officially partnered with FSO in an effort to consistently provide music programs to WEMS students throughout the coming school year.
"I would like the public to know that while we cannot currently afford a music program, we still find it valuable," WEMS Principal Rachel Savage said. "It is important that the community know that we are reaching out and looking to make connections and provide opportunities in every way possible."
According to Savage, former teacher Bonnie Dent had the idea to partner with the FSO and helped develop the project.
"Because of Bonnie, we were able to take this relationship to an official level and be able to provide a form of music programming for our kids," Savage said. "This will heighten the awareness of the importance of music education, from letting them hear a variety of styles of different music to having programming come into the school and having the kids travel to Flagstaff will certainly widen their horizons, a lot of positive things can come from music in a child's life."
Being a Symphony School means parents; teachers and students of WEMS receive special discounted tickets to the FSO. A variety of musical ensembles will also visit at least three times during the 2011-12 school year for music education and performance.
The FSO will arrange a private pre-concert reception to give students, parents, and teachers the chance to meet conductor Maestra Elizabeth Schulze and some of the symphony's musicians.
The FSO will acknowledge their partnership with WEMS on their website and from the stage before concerts if a WEMS group is in attendance. FSO will also work with teachers to create projects that enhance student's curriculum. Orchestra rehearsals are free and open to WEMS students, parents and teachers.
More like this story