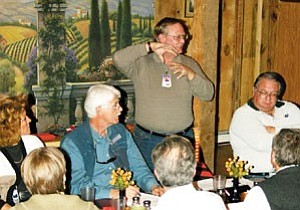 Originally Published: January 26, 2006 4 a.m.
Realizing that projected growth will bring with it an increase in waste products and that the surrounding forest floors continue to accumulate dangerous wildfire fuels, city leaders ‹ in conjunction with the Williams Economic Development Committee ‹ have begun seeking ways to use those materials as fuels for alternate energy.
One way ‹ that of cogeneration biomass technology ‹ was discussed at the Jan. 17 WEDC meeting as a way to help improve forest-thinning efforts.
Members of the WEDC, local Forest Service personnel and city staff heard a presentation by Arizona Public Service personnel on a three-megawatt cogen biomass system the utility company had for sale that would use woody material left over from timber mill production.
The system in question was designed to be a supplemental power source for a small-diameter timber company planned for the Bellemont area. That project, however, has since been put on hold.
"At the time, it was going to be Savannah Pacific, located at Bellemont," said APS Power Technologies Engineer Timothy McDonald. "They were going to process about 60-70 percent of the trees and we were going to dispose of the remainder ‹ we were going to be the waste management of the process."
Infrastructure costs for such a plant could easily go into the millions, but piggybacking the plant on an existing mill can cut those costs to an acceptable amount.
Without a large enough timber company to supply the plant ‹ which would go through about 120 tons of material per day ‹ costs for the venture would probably outweigh its immediate benefits, some at the meeting said.
The Southwest Forest Products pallet-manufacturing mill planned for Ash Fork could be a large enough partner, but might be too far from Williams to be piggybacked. Scott Van Der Toorn, vice president of operations for SFP, said the mill should be operational by July 4 and that it could mean 12-20 new jobs for the region.
It was also discussed that a higher-producing plant might be more economical for the city, partly because a three-megawatt plant requires about 10 employees while a 12-megawatt plant would only require an additional two.
While Arizona Public Service's system may not presently be an exact fit for Williams, the WEDC and city leaders are still interested in the concept as it relates to Williams in the next 20-30 years.
Solid waste products and sludge from the city's waste treatment plant are the other primary waste products the city will need to address.
"With the future build-out, and as we go through upgrading our wastewater treatment plant, the sludge is definitely going to be an issue," said Williams Mayor Ken Edes. "That's an item we've been red-flagged on."
A biomass plant, such as the one discussed above, produces both electricity and heat ‹ thus the monikers "cogeneration," "cogen," or combined heat and power (CHP). Heat production from such a system could be used to dry sludge so that it can then be burned in the same biomass plant.
Additionally, certain burnable solid waste materials could be converted into biomass fuel as well. Doing so would conceivably save the city money in waste transportation costs.
Edes did, however, mention the possibility of APS's biomass system ‹ or one like it ‹ being acquired and gradually phased in over a number of years.
Council members will be discussing the matter further at a retreat early next month.
More like this story