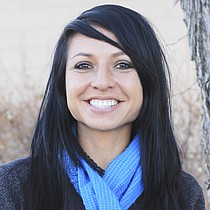 928-635-4426 Extension: 3609
Recent Stories

With more than 1,400 fireworks already purchased, Williams Volunteer Fire Department is planning to deliver one of the best Fourth of July shows in northern Arizona.

More than 50 children along with 38 adults and teens participated in the annual Vacation Bible School at First Baptist Church of Williams last week.

WILLIAMS, Ariz. — With some of the best prices and recipes in town, the Little Chicken Spot is receiving two thumbs up from locals.

WILLIAMS, Ariz. — Renowned wood carver, sculptor and artist Jonathan LaBenne is at it again, this time carving a full-scale grizzly bear, bear cub and otters for Bearizona Wildlife Park.

WILLIAMS, Ariz. — The Williams Mountain Men made their annual ride May 8-15, traveling close to 200 miles on horseback through northern Arizona.

The fire is believed to have started when the occupant of the house was working on a motorcycle inside the home.

Earlier this year, Grand Canyon RV Glamping installed four glamping units. In March and April they added an additional 20 units.
WILLIAMS, Ariz. — Children between the ages of 5-18 now have the opportunity to learn fishing etiquette and hunting skills with the Arizona Junior Hunters and Anglers in Williams.

WILLIAMS, Ariz. —Having recently obtained full-time status at Results Fitness in Williams, Lucas Zabala is excited to dedicate more time to personal training and classes at the gym.

WILLIAMS, Ariz. — Williams Aquatic Center is offering more than just swimming lessons this year. Students will have the opportunity to sign up for a junior lifeguard program and Little Mermaid Club starting May 1.