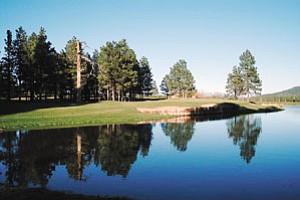 Elephant Rocks Golf Course has become a destination for golfers. Hole No. 3 is a serene haven for golfers.
Photo/Robert DeLander
Stories this photo appears in:

Enjoy golf in the high country
Elephant Rocks Golf Course is known not only as an exceptional venue for golf, but is rich in history as well. Players have enjoyed golf here since the 1920s, but it was not until 2000 that Gary Panks designed the course into a true 18-hole 6,695-yard championship layout. This created one of the top 18-hole courses in northern Arizona. From the moment you arrive at the course, hidden in the tall Ponderosa Pines and passing through distinctive Elephant shaped rocks, you know you are somewhere special.