Originally Published: October 30, 2018 11:55 a.m.
WILLIAMS, Ariz. — Each entrance to Williams now has an arch to welcome visitors after the third and final arch of the Williams Gateway series was erected Oct. 19.
The arches were cooperative projects of the city of Williams and the Arizona State Railroad Museum Foundation (ASRM).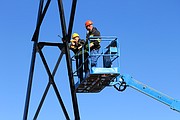 "The Foundation provided much of the funding through one of its grants, materials and the engineering with the city contributing labor for manufacture and construction of the arches and traffic control," said Al Richmond, founder of ASRM.
Williams Shop Superintendent Sheldon Johnson was responsible for the welding artistry in the arches that has now become a logo for the city.
Richmond said there were many contributors to complete the project and said the arches were truly a community project.
"BNSF donated the signal cantilevers and signal bridge to the museum, Grand Canyon Railway manufactured some of the steel parts, Southwest Industrial Rigging provided the cranes, APS assisted with construction, ADOT assisted with traffic control and the mayor, city council and others of the city staff contributed in various ways. Some private funding was also provided," Richmond said.
The first two arches were constructed using four 100-year old signal cantilevers. As no more were available for the third arch, it was decided to use one of the Museum's 100-year old signal bridges. 
"In so doing these venerable structures were given a new lease on life," Richmond said.
The legs for the arch were set earlier in the year and the remainder of the arch was engineered and constructed as city work schedules allowed. Retired Santa Fe/BNSF Field Engineer Mike McCallister, who was raised in Williams and serves as a boardmember for ASRM, provided critical engineering and surveying for all three structures.
Originally scheduled for Oct. 16, the setup was delayed because of rain and snow and was rescheduled for Oct. 19.
"Which turned out to be a beautiful day. Hopefully the arches will endure for another 100 years," Richmond said.
More like this story