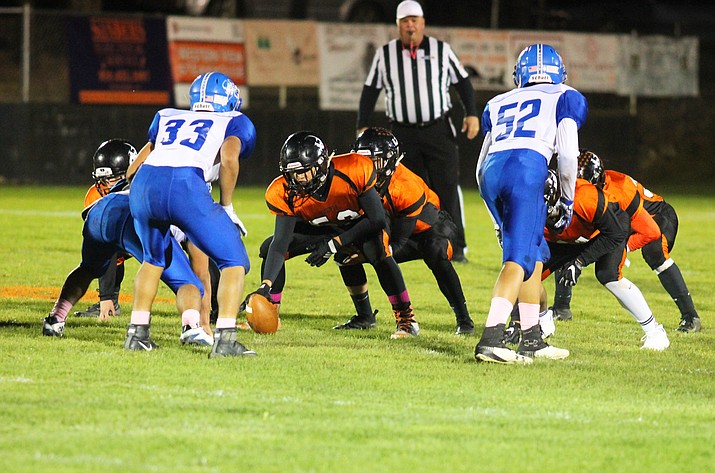 Photo by Erin Ford.
Originally Published: October 23, 2018 11:16 a.m.
WILLIAMS, Ariz. — The undefeated Williams Vikings battled Hayden in one of the closer match-ups of the season Oct. 12, but still came out with a sound 40-20 win against the Lobos.
The win put the Vikings at 8-0 in the 1A Conference as they head to the state tournament.
The Vikings will face the Joseph City Wildcats (#9) Oct. 26 at 6 p.m. at Williams High School. The Wildcats beat Fort Thomas in a first round game 66-58 Oct. 19.
Joseph City is 5-3 in the 1A Conference and lost to the Vikings 71-14 Sept. 14.
Hayden, Salome, Arete Prep, Mogollon, Bagdad and Superior move the second round of the tournament with games Oct. 26.
Either Mogollon (#3) or Superior (#2) are expected to matchup with the Vikings at some point in the tournament.
The Vikings beat Superior 57-14 in the 2017 State Championship, and lost to Bagdad 60-6 in the 2016 State Championship.