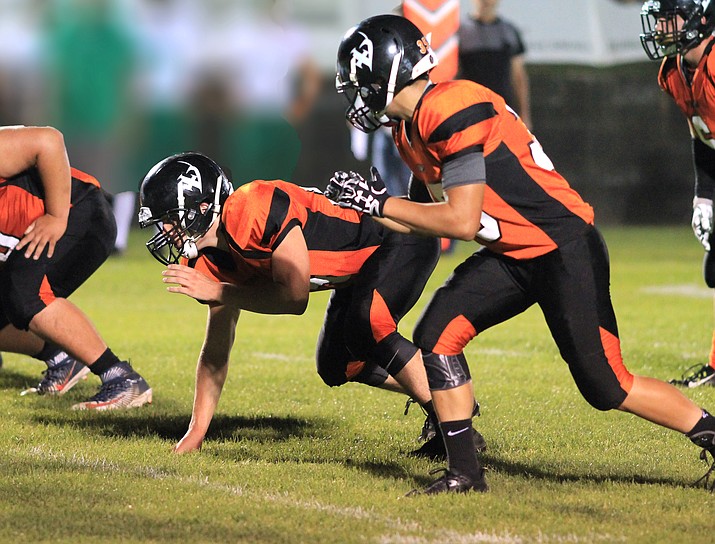 Photo by Wendy Howell.
Originally Published: October 3, 2018 11:30 a.m.
WILLIAMS, Ariz. — The Williams Vikings cruised to an easy 66-6 homecoming win over the Fredonia Lynx Sept. 29.
The Vikings' second team gained experience during the game as freshmen Oryn Orozco, Jesse Hernandez and Nick Gutierrez were given opportunities to carry the ball. Orozco ran the ball three times for 19 yards, Hernandez ran seven times for 51 yards and Gutierrez ran nine times for 60 yards.
Sophomore Luis Lara-Arredondo caught one pass for 46 yards and Angel Ayala caught one for 22 yards. Blake Smith kicked nine times for 400 yards, averaging 44 yards each attempt.
Junior Dorian Ayala pulled in the most yards, as he carried the ball seven times for 112 yards and caught one pass for three yards.
Lara-Arredondo, Ayala and Joe Zabala each had one sack for the Viking's defense, and Blake Smith and Mario Vazquez each had an interception. Smith returned the interception for 50 yards.
Zain Grantham led the defense with five solo tackles and one assist. Grantham also had five punt returns for 135 yards, averaging 27 yards per return.
Kolby Payne completed three passes on five attempts for 71 yards.
The Vikings head to El Capitan Oct. 5 to face the Eagles.
Lady Vikes
The fifth ranked Lady Vikes notched two more wins into their belts last week, as they faced the Grand Canyon Phantoms and Camp Verde Cowboys.
The Vikings beat the Phantoms 3-0, and the 2A Cowboys 3-2.
The Lady Vikes faced rival Ash fork Oct. 2.
Middle School Falcons
The Williams Middle School Falcons have made it four-in-a row with their 40-0 win against the Flagstaff Rangers Sept. 29.
The Falcons also beat Bagdad 50-28 Sept. 7, Joseph City 52-6 Sept. 14 and Mayer 41-12 Sept. 20.
The Falcons are on the road as they next face the Prescott Valley Hitmen Oct. 6.
More like this story