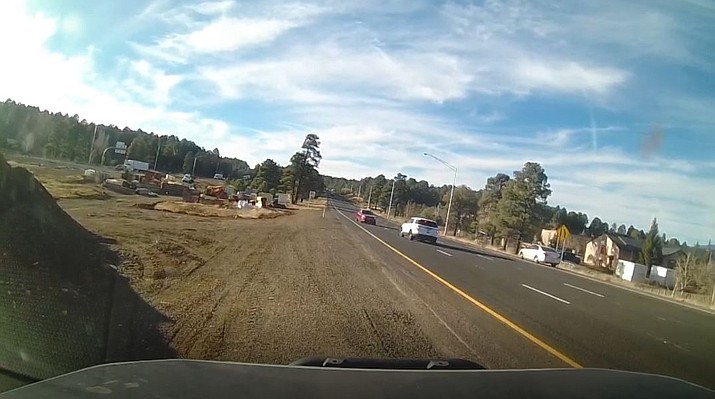 Originally Published: November 30, 2018 5:23 p.m.
FLAGSTAFF, Ariz. — A wrong-way driver in Flagstaff has been charged with attempted homicide, and an Arizona Department of Public Safety (AZDPS) trooper is being hailed a hero for his actions in stopping the vehicle.
On Nov. 17 around 3:30 p.m., AZDPS began receiving calls reporting a reckless driver in a Nissan Rogue on Milton Road in Flagstaff. Witnesses reported the driver was traveling on the sidewalk and nearly struck several vehicles along the road. AZDPS troopers responded and located the vehicle on I-40 westbound near Flagstaff and initiated a traffic stop. The driver then fled the wrong way, traveling east within the westbound traffic lanes of I-40.

A DPS sergeant responding to the call entered the westbound lanes of I-40 and quickly began a traffic break to stop westbound traffic. Immediately after the vehicles came to a stop for the traffic break, the wrong-way driver struck the sergeant's stopped patrol vehicle head-on. The sergeant's swift actions prevented a high-speed collision between the motorists and the wrong-way vehicle, according to AZDPS.
The sergeant and the impaired wrong-way driver were both injured. The wrong-way driver's two-year-old daughter was in the backseat of the vehicle and was not physically hurt. The sergeant was transported to the Flagstaff Medical Center where he was treated and released for minor injuries. The wrong-way driver, Patricia Rose Carvalho, age 32 of Los Ranchos, New Mexico, was admitted for non-life-threatening injuries.
After being released from the hospital, Carvalho was booked on the following criminal charges:
• Attempted 2nd Degree Homicide
• Aggravated Assault
• Endangerment
• Aggravated DUI
• Child Abuse
Carvalho's two-year-old daughter was placed in the custody of the Arizona Department of Child Services.
"The video taken by another motorist, whose life may have been saved by the actions of this heroic sergeant, tells the true story of what happened. Sadly, it's a stark reminder of the risks that impaired drivers pose to the public and to our troopers, who selflessly put themselves in harm's way to stop them." Said Col. Frank Milstead, Director of the Arizona Department of Public Safety.
Information provided by Arizona Department of Transportation.
More like this story