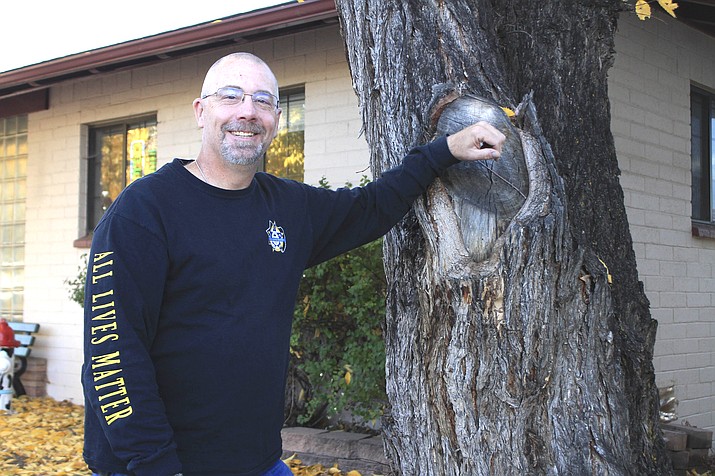 Photo by Loretta Yerian.
Originally Published: November 6, 2018 10:55 a.m.
WILLIAMS, Ariz. — As a patrol officer working the graveyard shift, Williams Police Officer Jason Nicolls responds to many calls that daytime officers may not see as often in a small town, these include domestic and assault cases.
"A lot of times in the day you get the barking dogs or the civil matters," Nicolls said. "At night you get more of the domestic stuff, more of the possible hostile work environments. In the day you get more of the public out and about that's actually seeing things. At night you still get some of that but generally you really have public victims."
During many domestic and assault cases, Nicolls works closely with Coconino County Victim Witness Service to ensure the victim has someone to talk with and is taken care of after the initial response by officers. Because of his dedication to victims and the pursuit of justice for victims of crimes Nicolls received the Golden Heart Award from Coconino County Victim Witness at a ceremony Oct. 22 in Flagstaff.
"All lives matter. Not only the officers but the victims and even the suspects,"
~Officer Jason Nicolls
"Stuff happens in a small town," he said. "You don't ever want to re-victimize people. You don't want them to live that over and over again."
To Nicolls, receiving the award is a recognition of the treatment of victims and the passion of an officer to see a case all the way to the end in order to get justice for victims.
"And doing it in a manner that is respectful and humble," he said "Oftentimes cops can have attitudes and egos and you limit that — be a little more soft spoken on behalf of the victim, not to re-victimize them over and over and over again or lay blame on them."

Depending on the case, Nicolls works closely with the county's victim services, specifically with domestic violence and assault cases. He said they play an important role in helping victims during and after the crime.
"Victim services comes in and acts as an advocate or go between sometimes, especially if that person is really traumatized," he said. "They're usually softer spoken and they're not standing there in uniform with a gun on — they're less intimidating."
Nicolls has extensive experience working directly with the public, having worked for Fry's Food and Drug in Flagstaff for 21 years before deciding to make a career change. He started at the grocery when he was 15 years old and said the industry quickly taught him how to develop a rapport with people.
"You're with people (customers) for a very short period of time, so you have to develop that rapport very quickly… you develop a way to talk to people that is very respectful, not condescending and humble and here I still use those same (skills)," he said.
Nicolls is going into his tenth year as a police officer. He has a degree in criminal justice with a minor in sociology. Because his work relies so heavily on public interactions, Nicolls said if he had college to do over again he would pursue sociology as his major.

"(Criminal Justice) is all theoretical and this job is often times where people say you learn on the job. My sociology side of my education was actually more pertinent to this job than the criminal justice," he said. "It's more beneficial to me."
In 2009, Nicolls graduated from the Northern Arizona Regional Training Academy. He then worked as a deputy with Coconino County Sheriff's Office for four years before getting a job with Williams Police Department five years ago.
He primarily works the graveyard shift in Williams and said his call response is varied and said he has seen a rise in felony cases lately. Some recent calls Nicolls responded to have included a man with a gun on a Greyhound bus, a man with an AK-47 rifle on Route 66, aggravated domestic violence, felony DUIs and felony drug cases.
"We've been getting a lot more felony (cases)," he said.
Nicolls attributes some of these calls to Williams' close proximity to Interstate 40 but said he responds repeatedly to many of the same people and cases in Williams.
Williams Police Chief Herman Nixon said Nicolls does an excellent job and recognized him during a recent city council meeting.
"Officer Jason Nicolls was awarded the Heart of Gold from the victim's witnesses for his dedication to victims of crime within the city of Williams," he said. "If you see (him) congratulate him, (he) did a great job."
Nicolls is married and has two children. He splits his time between his home in Flagstaff and living in police department housing in Williams.
"To me the glory is in the work itself not in the accolades. It's nice to have, but it's not necessary for me to keep doing my job," he said. "I like being a cop."
More like this story