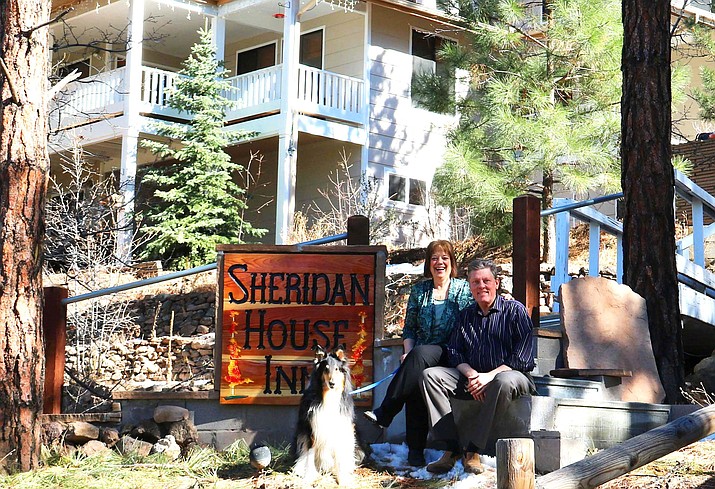 Originally Published: May 22, 2018 1:49 p.m.
WILLIAMS, Ariz. — One of Williams' bed and breakfasts, the Sheridan House Inn, was purchased in March by Mark and Debbie Santy, who are now operating the eight room inn.

The previous owners, Nick and Claire Kirby, who are British citizens, recently moved to Panama to open a business.
The Santys moved to Williams from Denver, Colorado, fulfilling a long-standing desire to own a business together. They had been searching for a bed and breakfast in a mountain area for a number of years and fell in love with the property in the pines above Williams when the Kirbys put it on the market in 2017. After months of negotiations and business preparation, they sold their Colorado home, left the comfort of the corporate world and headed west to Williams to make a new life. The Santy's have two grown children, one in Wyoming and one in Hawaii, and came here with their collie, Cody, who is the official Sheridan House Inn greeter.
"We decided to take this huge leap of faith because we truly love showing hospitality to others. We wish to help our guests have a special experience away from home, and with the Grand Canyon and Sedona in our backyard, along with the peaceful forest environment of this inn, we believe it is a place our guests will remember forever," said Mark Santy. "We love the fact that so many of our guests come from around the world, and we are very proud to welcome them to America."

The guests who stay at the Sheridan House Inn will be visiting area attractions, shopping in the stores in Williams and enjoying meals at local restaurants. The Santys only recommend those places they've experienced and enjoyed themselves.
They encourage any local business owners to stop by or give them a call at the inn, (928) 635-8991 if there is a possibility of partnerships. Because the inn is a child-free environment (no children under at 16 can be accommodated), it is a unique lodging property. They are making referrals to other properties when a guest inquires about bringing children. The Santys said they believe in the importance of working in collaboration with other local businesses.
"We know that our guests will help grow the economy of Williams, and we are proud to be a contributing part of the community here," Debbie said. In addition, the couple has already begun more renovations and upgrades, partnering with area contractors. The Santys plan to own the inn for many years and look forward to getting to know the people of Williams, although they admit that it's quite a culture shock moving from the city to a small town.

"We hope to meet people and encourage folks to stop by to see the facility," Debbie said.
More like this story