Originally Published: May 15, 2018 11:28 a.m.
Arizona Department of Public Safety officers are used to responding to emergency incidents and lending a hand, but it was the officers themselves who
"It was literally too fast to even brace for impact when they hit us. It was like a cannon went off inside the cockpit."
~DPS Trooper-Paramedic Daniel Townsend
ended up needing help April 29 when a DPS helicopter aiding a search for a missing four-year old in Williams was forced to land following a bird strike late that evening.
Pilot John Haverly and Trooper-Paramedic Daniel Townsend departed Williams around 1 a.m. enroute back to Kingman after searching for Kaylee Cooke April 29, when their helicopter struck a flock of birds.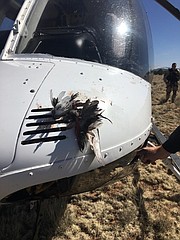 Significant bird strike incidents:
2009 - A US Airways flight hits a flock of geese, pilot lands on Hudson River. 155 passengers evacuated safely.
2009 - A Sikorsky S-76 helicopter hits a red-tailed hawk over Louisiana. Eight of the nine passengers were killed in crash.
1995 - An Air Force jet in Alaska crashed after hitting Canadian geese. All 24 passengers died after take-off.
"We were flying along doing about 120 knots and I noticed just out of the corner of my eye a flock of birds," Townsend send at a media event in Phoenix. "It was literally too fast to even brace for impact when they hit us. It was like a cannon went off inside the cockpit."
Townsend recalled being hit by a blast of wind and was struck by dirt and debris.
"I was blinded," Townsend said. "I immediately notified the pilot."
Townsend had some type of debris covering his body and face and was unable to see anything.
"I told him we need to land, I can't see anything and I can't help you with the landing," he said.
Haverly immediately checked the instruments of the aircraft and held the power settings.
"I can see that yes, the engine's fine, the transmission's fine and nothing's heating up," he said. "I have oil pressures and everything is good. I slowed down and the aircraft responded well."
Haverly said he was relieved when Townsend said the helicopter struck birds, because he then knew what had caused the noise.
"We didn't feel it, we heard it," he said. "The helicopter didn't even shudder. The aircraft performed well."
Upon impact, Townsend activated an emergency alert beacon to notify his chain of command about the incident. He then was able to contact dispatch and request resources.
"When we landed, we had some troopers show up and we were well supported," Haverly said.
Haverly and Townsend landed in a field just north of I-40 between Seligman and Kingman. The aircraft sustained several hits from what appeared to be small aquatic migratory birds.
"Striking birds is not common but it happens," Haverly said. "You hit bats and birds, but I have never hit one at night, that was a surprise."
Several birds struck the chin bubble of the aircraft, breaking the Plexiglas and coming to rest under the pedals on Townsend's side of the aircraft.
"He needed to move a bird out of the way so he could transmit," Haverly said about Townsend.
Blood, feathers and other bird parts were scattered about the helicopter cabin, with Townsend taking much of the brunt of the debris.
Townsend said one of the difficulties with flying at night is the limited peripheral vision because of the night vision goggles worn by the officers.
"They really limit your field of view and you can only see basically in front of you," he said. "You have to turn your head to be able to see anything else."
Despite the damage to the chin bubble and frame, the helicopter was able to return to service within a few days after repairs and cleaning.
Neither officer received any injuries from the incident.
"I had a good adrenaline pump," Townsend said. "I had the shakes after landing and then got over it and was ready to move on with my day."
Both officers feel grateful for the good outcome.
"We're glad to be here," they both said.
Lt. Colonel Ken Hunter, of the Agency Support Division said, "This very brave and highly skilled crew was just returning from a search and rescue mission involving a missing four-year-old girl. Pilot Haverly's wit and training are the reason he was able to land the helicopter safely and without further incident."