Originally Published: May 11, 2018 10:39 a.m.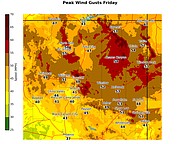 Friday:
A low pressure system forming over the Great Basin will bring southwest winds from 25 to 40 mph today gusting 45 to 55 mph. In addition to the winds, relative humidity values will drop to 9 to 18 percent, causing critical fire weather conditions across all of northern Arizona.
In addition, areas of blowing dust and reduced visibilities are likely across northeastern Arizona.
Saturday:
Critical fire weather conditions will develop again Saturday across eastern Arizona. The remainder of the state will remain breezy with slightly higher humidity levels.
Information provide by National Weather Service Flagstaff.