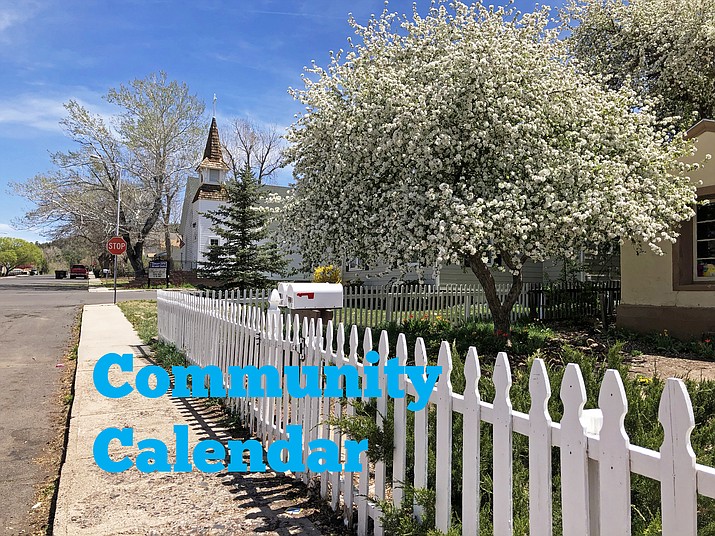 Originally Published: May 8, 2018 10:50 a.m.
Save-MTR Balls for Dogs Golf Tournament May 19
A two person scramble golf tournament, $75 per person including fees, closest to pin, lunch and a chance for $10,000 hole in one takes place May 19.
Sponsorships are available for $100, your requested saying or business will be advertised. Please join this fundraiser as a player or sponsor. Save-MTR said they need all the support they can get as they are now raising funds to make the necessary improvements on the land they have leased form the city. Improvements need to be made before construction of the dog rescue shelter can begin. More information is available from Robynn at (928) 635-4726 or Brandi at brandi.dent@fbfs.com for early registration.
Bountiful Baskets returns to Williams
Bountiful Baskets vegetable and fruit co-op has returned to Williams. The co-op distributes produce baskets, organic produce baskets, artisan bread and other add-ons every other week through local volunteers. Contributions (money)for the baskets are due between noon on Mondays and 10 p.m. on Tuesdays for Saturday pickup. Baskets can be picked up at Pine Mountain Plaza 7-7:45 a.m. every other Saturday. Volunteers are needed for deliveries and distribution at 6 a.m. Anyone wishing to participate can go to Bountifulbaskets.org to order. Participation is open to anyone in the Williams, Parks, Seligman and Ash Fork areas.
Historic Yellow House Garden Sale and Home Tour May 26
The annual Historic Yellow House Garden Sale and Home Tour is May 26 from 9 a.m. to 1 p.m. The sale and tour includes garden decor, local art work, baked goods, canned goods, vintage finds, homemade granola and more. There will also be a cinnamon roll fundraiser for the Williams Fire Department. The home is located at 6th St. and Grant Ave.
Williams Youth Football
Registration is now open for Williams Youth Bengals and Tigers football.
Williams AYSO soccer registration open
Williams youth ages four to 18 are encouraged to sign up for the American Youth Soccer Organization (AYSO) season that runs from June 17 to early August 26. Registration is currently open and will close May 15.
Registration is $85. The cost includes a uniform shirt, shorts and socks. Those interested can register at www.flagsoccer.org and need to sign up for the Flagstaff/Williams Region.
WFD pistol and cooler raffle June 2
The Williams Fire Department will host a pistol and cooler raffle at its 16th annual golf tournament June 2. The raffle is for a Smith & Wesson shield 9mm laser flashlight combo pistol and a Cannon 55-quart cooler. Tickets are $20 each and only 300 will be sold. All proceeds will benefit the Fire PRevention Community Development fund. Winners must pass a background check, or an alternate winner will be drawn. More information is available from Jeff Pettit at (928) 607-0869 or any WFD member.
Veterans make their way through town for annual Run for the Wall
A group of veterans will roll into Williams on their way to Washington, D.C. to commemorate the 30th anniversary of Run for the Wall. The veterans will be at the American Legion Cordova Post at 5:30 p.m. May 16 and Wild West Junction at 7 a.m. May 17. Community members are encouraged to stop by and shake hands or say hello.
Saturday market
Each Saturday through the summer vendors with homemade and homegrown goods, such as home baked breads, soaps, fresh eggs, crafts and the famous 'ola Granola will meet in front of Our Mountain Home Gallery at 428 W. Route 66.
Pickleball
A new pickleball program is taking place every Sunday from 1 p.m. to 3 p.m. at the Williams Elementary-Middle School gym.
Fourth of July parade applications now available
The City of Williams is proud to announce applications for the 2018 Williams 4th of July Parade are now available at the Williams Visitor Center, City of Williams and via email. This year's parade theme is "Parade of Stars." The event will begin at 6 p.m. July 4 along Route 66.
Deadline to the enter the parade is Wednesday, June 27. More information is available from Sue Bennett at the City of Williams at (928) 635-4451 ext. 209 or sbennett@williamsaz.gov.
Rec Center movie nights
The Rec Center hosts a movie night every Wednesday at 6 p.m.
High school and adult basketball
The city of Williams has pick-up basketball March 7 and 21 from 6 p.m. to 8 p.m. at the Williams Elementary-Middle School gym.
Open gym
The city of Williams hosts open gym March 22 and 29 from 6 p.m. to 8 p.m. at the Williams Elementary-Middle School gym.
More like this story