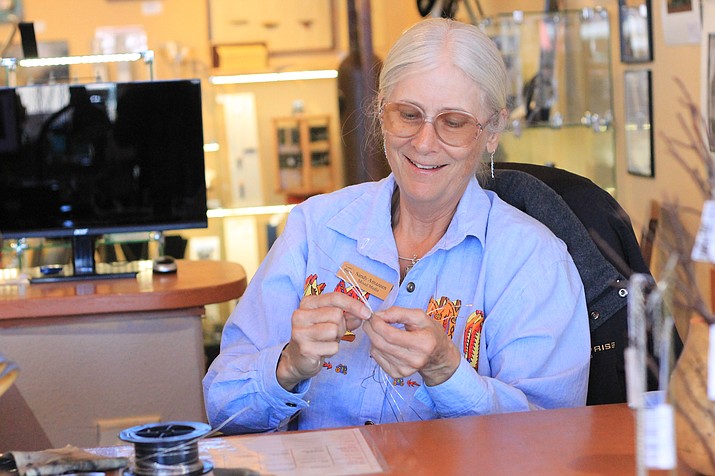 Photo by Wendy Howell.
Originally Published: May 1, 2018 11:51 a.m.
Long attracted to the arts, Sandy Amazeen has made a name for herself in the Williams art community with her gemstone jewelry and unique gourd pots.
"I'm drawn to color, texture and what could be considered the lost arts," Amazeen said. "I am now exploring lapidary, wire and assorted new mediums while allowing nature to inspire my direction."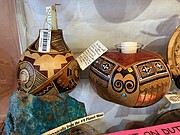 Amazeen and her husband are active rock collectors, and when she isn't in her studio creating works of art, she can be found hiking and seeking gemstones.
"I love rockhounding," Amazeen said. "My husband is my mule. We absolutely love hiking and when I find the spot on the ground, I'm down on my hands and knees, pick axe and shovel going at it."
Amazeen said developing an eye for gemstones takes time and practice. She said with rocks people typically have no clue that its anything gorgeous until it is cut open.
"But even then, I'm often surprised," she said. "I'll get a lump of rock and I know there is something cool in it."
Amazeen has two rock saws that do the difficult work of cutting into the rock.
"I find the rock, I cut it and then I do preform," she said. "I preform it into cabs and its done on a trim saw. Then I put it on my dob stick. I stand in front of my grinder and go through the steps and buff it out. Then I get a finished cabochon — the finished stone."
Amazeen then takes the finished stone and works it into her numerous jewelry creations.
Amazeen said she began drawing as a child and then moved into creating textiles as she got older.
"Actually, I got into spinning and weaving," she said. "I had a floor loom the size of an SUV for a while."
Amazeen and her husband lived in Alaska for many years where she sold many garments at a gallery in Denali.
"I did several art shows in Alaska and I was part of the Made in Alaska program," she said. "I sold through a gallery in Denali National Park."
Amazeen said she took part in exhibitions at an art museum in Anchorage, where she took some of her textiles and beadwork.
While in Alaska, Amazeen also took part in Friendship Flights between Alaska and Russia.
"I took my artwork and it was on display at the Hall of Culture," she said. "My artwork toured for a year and I was invited to go back."
Initially, Amazeen and her husband came to Williams for vacation while living in Alaska.
"We used to come down and camp in May to remember what its like to be warm," she laughed. "Over the years, we decided this place had the best mix of hiking, rock hounding and all the things that we liked to do."
As Amazeen became acquainted with Williams, she began to expand her art. Besides jewelry, Amazeen has been working on gourd pots.
"I started learning appreciation for Native art through my grandfather," Amazeen said. "I wanted to bring back an appreciation for lost designs."
Amazeen said her focus on gourds came about through studying the ancient Mimbres people.
"They predated pottery by a millennium," she said.
Amazeen's gourds have lines that are burned into the skin. She inlays turquoise, sterling silver, gold leaf and copper foil.
"I incorporate different designs, some twists of my own," she said.
Amazeen's artwork can be found at The Gallery in Williams at 145 Historic Route 66 in Williams.
More like this story