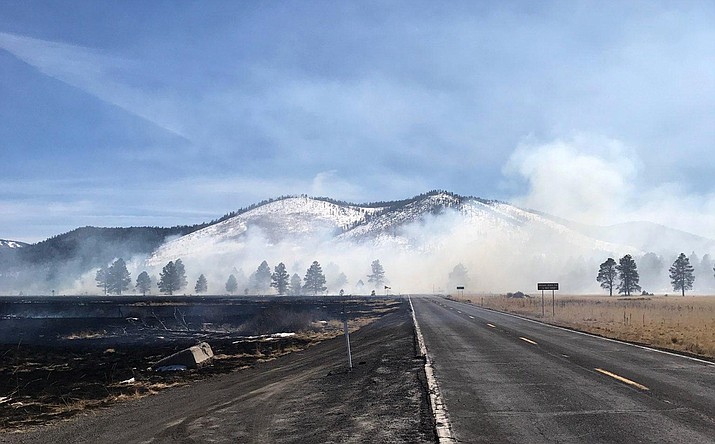 Originally Published: March 6, 2018 3:54 p.m.
FLAGSTAFF, Ariz. — Coconino National Forest firefighters have responded to a fire southeast of Kendrick Park. The fire is in grasslands and has burned more than 200-acres of forest land.
Around 30 firefighters are working in the grasslands to stop the wildfire. It has not crossed Forest Road 514 or U.S. Highway 180. Drivers in the area are asked to drive cautiously while near the area because of smoke, response vehicles and personnel in the area.
Several Forest Service engines, patrols and a water tender truck being dispatched from Summit Fire responded to smoke report from a drone on fire north of Flagstaff at approximately 12:35 p.m. today.
The fire is producing a smoke which may be limiting visibility in the area at times. Arizona Department of Transportation has responded to the area to assess traffic needs.
Notifications of fires are provided regularly by news releases and by the following online resources:
• Inciweb: http://inciweb.nwcg.gov/unit/303/
• Twitter: www.twitter.com/CoconinoNF
• Coconino website: www.coconinonationalforest.us, (Under News and Events)
• Sign up to receive news releases: www.fs.fed.us/news/subscription.shtml