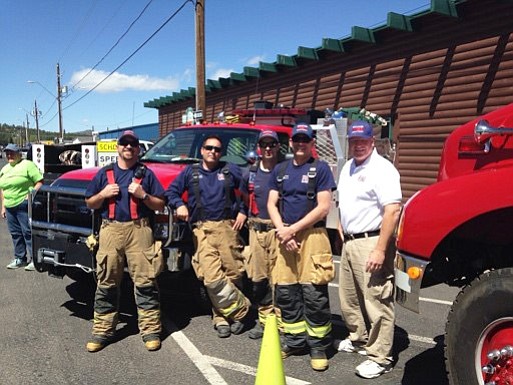 Originally Published: June 19, 2018 11:26 a.m.
Williams Fire Department (WFD) Chief Jimmy Walker (retired) will be included in a memorial bell ceremony to be conducted during the opening ceremonies of the 45th annual Arizona State Fire School September 6.
The department responded to the following incidents during the month of May:

May 1 — a single car rollover in a snow storm on I-40. No injuries were reported, however an eastbound semi broke down causing closures on I-40 for around one hour.
May 5 — the department responded to a trailer explosion at Dog Town Lake. A 75-year-old male was inside the trailer when it exploded and caught fire. The patient received severe burns and was flown to the burn center in Phoenix.

May 7 — the department responded to an eastbound semi traveling westbound on I-40 accident which occurred when the semi crossed the median to the westbound side and rolled over. Minor injuries were reported.

May 8 — the department responded to a man melting computer parts with muriatic acid on Third Street in Williams. No violations were found.

May 12 — the department responded to a medical assist for a one person injured on an overpass on I-40. The department also responded to the Woods Subdivision for a report of open burning. A family was found with a fire pit burning. The fire was extinguished.
May 19 — the department responded to a report of a westbound car accident with injuries, the report was canceled while enroute.
May 25 — responded to an eastbound trailer roll over on I-40. No injuries or hazards were noted.
May 27 — responded to a pickup leaking diesel fuel. A small leak was found and the areas was diked with absorbent.

May 29 — responded to a report of an injury accident on I-40. The call was canceled while the department was enroute.
Additional incidents included multiple responses for fire alarm, smoke detector and heat sensor activations. No hazards were found.
Training
WFD training for May consisted of a review of Engine 7 and its pumping capability, an inventory review of Engine 7 and a review of brush tools.

On May 12 the WFD celebrated the Kite Festival with the city of Williams. WFD members showed off their apparatus and gave the kids a chance to squirt some water.
On May 26 the WFD participated with the Historic Yellow House Garden Sale to raise funds for the WFD. The cinnamon rolls netted $718 which will be used for training props needed by the department.
More information is available on the newly created WFD page on the city of Williams web site at www.williamsaz.gov and click on departments.
Information courtesy of Williams Fire Department