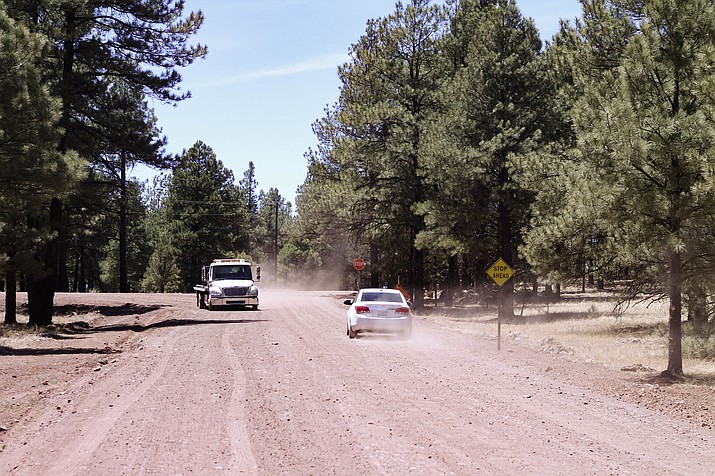 Originally Published: June 12, 2018 11:04 a.m.
WILLIAMS, Ariz. — With road construction on I-40, 51 Road, which runs horizontal to I-40, has seen a steady influx of traffic — more than the dirt road was meant to handle. With this increase, the dirt road has become a mine field of washboards and potholes.
51 Road lies directly south of the interstate, running past Bearizona to the Garland Prairie exit. Some locals, and those who use the road more often now because of the construction, have asked who is responsible for maintaining the road.
Tom Carter lives on Pittman Valley Road and uses 51 Road at least three times a week. Carter said he has noticed major changes in the road from the increased usage.

"I go down (51 Road) a minimum of three times a week to go to Safeway for different things," he said. "The first time I drove down that road, it was severely rutted from previous wet periods. That's when I thought they needed to do something with the road."
51 Road is actually two roads, 51 and 51A. 51A splits off from 51 and runs south to the railroad track. The road is a U.S. Forest Service road, according to the city of Williams, although the city said they have graded this road.
"We've always graded it because we go out there and grade that section of Garland Prairie and forest service property, which is the cattle guard," said Tim Pettit, chief building inspector for the city of Williams.
Pettit said the city has received complaints about 51 Road.
Carter said he approached the city around two weeks ago to ask the city to do some maintenance on the road. Not long after, the road was graded by the city. FANN Construction, which is contracted by ADOT for the I-40 repairs, also took some millings from the freeway and put them on 51 Road. This helped, but now, Carter said, the road is just as bad as it was before.
"The biggest problem is that people, certain ones — not all, don't know how to slow down on these dirt roads," he said. "Once you get that washboard started where the tires bounce, it just continues to do that."
Carter said every time he drives the road there is a steady flow of traffic using the road.
"The best possible solution is for the city to take some serious credit for doing something good, like putting a grader out on that road and getting it scraped up … and they must be willing to do it more than once," Carter said.
Pettit said city officials are currently having conversations with FANN, on a weekly basis, to try and get something in place to improve 51 Road.
Dave Gregson, project manager for FANN Construction on the I-40 project east of Williams, said FANN put down two loads of millings (crushed asphalt) from the I-40 project on 51 Road and said they have been asked to lay down more millings on the road.
Gregson said the millings, which it created when FANN peels back around 11 inches of asphalt from I-40 and crushes it, could be a solution. He said FANN uses some of the millings back on I-40 for material in the reconstruction of the interstate but the rest is stockpiled for future maintenance or sold.
"I have to take a look at that and see if we can come up with something that everybody can agree on," Gregson said. "I have to work up a price and see where that's going to land."
Gregson said if milling is used on 51 Road, ideally, the road would first be bladed to remove the washboard and then the milling would be laid and compacted.
See next week's edition of Williams News for a complete update and timeline of current construction on Interstate 40.