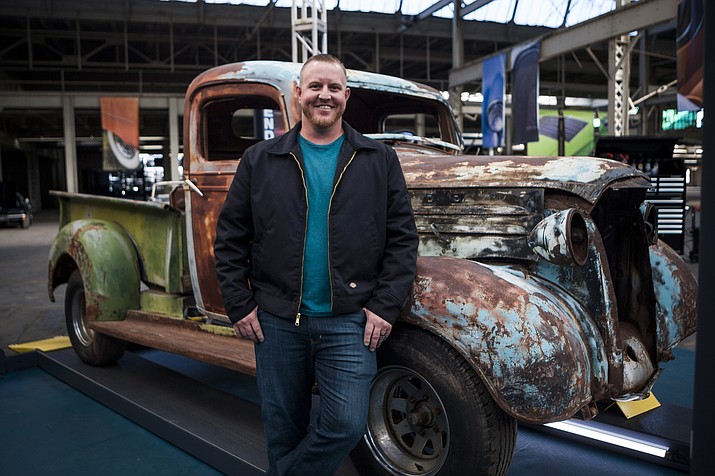 Originally Published: June 12, 2018 10:26 a.m.
WILLIAMS, Ariz. — A bit of Williams history aired June 6, when the Discovery Channel chose a vehicle with some Route 66 history to appear on its new show, "Sticker Shock."
Tim Johnson, a former Williams resident, was selected to appear on the show when he submitted his family's 1937 Chevy truck in a nation-wide casting call this spring.
Johnson had just begun the restoration process on the vintage truck that has an extensive history in Williams.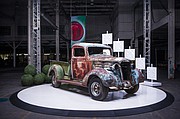 The show shipped the truck from Williams to Los Angeles, where the show is filmed, and paid for Johnson to travel to the lot. There he spent a day being interviewed and filmed for the show.
"It was an all-day adventure with a lot of sitting and waiting," he said. "The premise behind the show is it's a car show for non-car people. I'm a car guy, so I struggled a bit watching it. But if you like tidbits of history it's a great show."
"Sticker Shock" debuted April 30, with an aim to interview owners and showcase vintage vehicles with unique histories. The show uncovers the value of vintage cars that are brought to the studio lot. At the end of each episode, the car owners find out what their vehicle is actually worth.
The producers said they are looking for cars with a back story and personal meaning to the owners.
Johnson said the value of his truck is difficult to put a price tag on. He said the appraisers at the shop base in on actual retail value, not looking at the history the vehicle may hold.
"In some vehicles there is a pedigree to go with it, who touched it, who's been around it, but in my case since there is no real historical significance, it didn't hold a lot of value," Johnson said. "There's no motor, no grill, it's just a rolling shell."
Johnson said Chevy made a lot of 1937 trucks, but many of them were taken out of service by the company.
"Pre-World War II Chevy trucks are hard to come by," Johnson said. "GM would take these trucks and crush them when people traded them in. They didn't want people buying used trucks."
Johnson said he plans to restore the truck with modifications. He said it is difficult to find original parts, but has made connections online with other Chevy truck enthusiasts.
"I've found a community of people online who are into these trucks," He said. "But it will still be a challenge because there's no aftermarket for them."
Johnson has been restoring cars and trucks since he was a teenager in Williams. He said he has always loved cars, but it took several years before he had enough money to begin proper restoration.
"My first car was a 1979 Subaru Brat," he said. "I'm sure everybody in town remembers that stupid car."
Johnson said he purchased a 1979 Chevy pickup toward the end of high school and that is where his restoration hobby began. But it was in 2009 when he moved to restoring Cadillacs.
"My wife bought me a 68' Cadillac Coupe DeVille," he said.
Johnson said the vehicle was eventually totaled in a car accident, but he has continued to seek out Cadillacs and currently has a 1968 Fleetwood in his garage.
Ties to Williams
The Johnson family has deep roots in Williams where they worked mostly in the logging and construction industries, including the Saginaw-Manistee lumber mill, and the family has been a part of infrastructure projects throughout the community, Johnson said.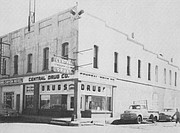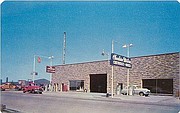 "My dad and grandpa built the dam at Cataract Lake and there are many roads and buildings around town that my family had a hand in at some point in time," he said.
In 1937, Cheshire Motors, on E. Route 66 in Williams, was where many locals went to purchase their vehicles. C.C. Cheshire ran an auto dealership in Flagstaff and his brother-in-law A.T. Davis Jr. opened the location in Williams.
It was at this dealership that Johnson's 1937 Chevy truck was originally purchased. According to research done by Johnson, the first owner of the truck was Brandon Evans, who used the truck at Pine Springs Ranch, now Hat Ranch, west of Williams. The vehicle was sold to Ivan Smith in 1951, who owned Smith's Drugstore in downtown Williams. Smith used the truck for deliveries, which is how the Johnson family came into the story.
Johnson's grandmother was a delivery driver for the drugstore and drove the vehicle for years until the vehicle seized up. The vehicle was brought to the Johnson's home in Red Lake for repairs around 1968 and sat behind the home until the 1990s, when Tim and his father pulled it out from beneath a tree.
"We towed it back to our house and we found a rear end from another car and put that on it," Johnson said. "At one time it had a motor and transmission in it and we were close to having a running, driving truck, but them my dad needed a transmission and my grandpa needed an engine and that's just kind of how things went."
Johnson, who was born in Williams and attended Williams High School, did a little work on the truck then, but eventually put the project on the backburner.
"I never really wanted to get back on to it until I knew what I was doing," Johnson said.
Johnson, who graduated in 2000, spent several years learning automotive repair and now lives in Las Vegas, Nevada where he works for the Nevada Department of Transportation. In his spare time he restores vintage Cadillacs and is the vice-president of the Cadillac Kings Car Club.
He didn't think much more about the 1937 Chevy truck until a friend told him about a nationwide casting call for vehicles for the new "Sticker Shock" show, so Johnson submitted a photo of the truck.
"I didn't think anything would come of it, but he calls me and says 'hey, we want your truck," Johnson said.
Johnson said he hopes people are able to watch rebroadcasts of the "Sticker Shock" episode, but feels the real story is in the history of the truck.
"One thing I realized is that it has almost nothing to do with me but it has everything to do with everybody who has touched that steering wheel before me," he said. "Being that my grandma drove it for all those years and she has since passed away, having that little bit of history, it kind of ties a lot of people back together."
More like this story