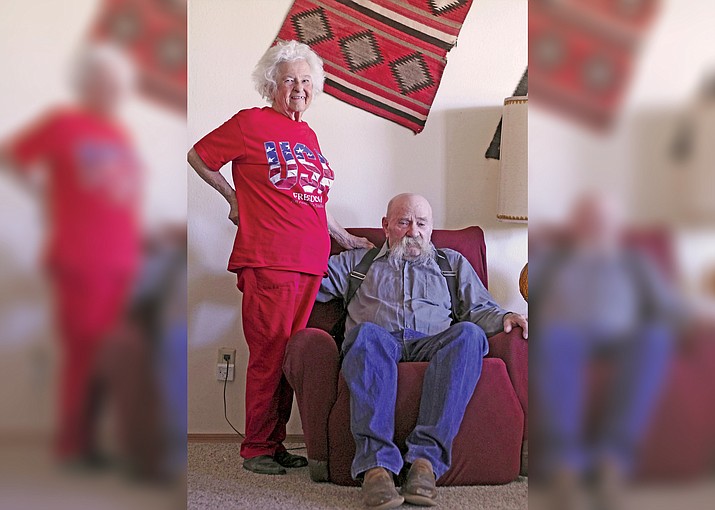 Originally Published: June 12, 2018 11:29 a.m.
WILLIAMS, Ariz. — In 1981, Lucy and Jim Kreutzer and Joe Rogers got together to help bring a ranch rodeo to Williams. It was going to be a simple event involving ranch families and ranch hands in which no professional cowboys would be allowed — this reunion, would be a time where ranching families and friends could get together and visit.
At the time, Jim was working for Babbitt Ranches north of Williams and Joe owned the Corner Bar in Williams. Lucy, a Williams' native, had worked a variety of jobs and was getting ready to transition from working at the Williams Post Office to working as the post master in Ash Fork.
Jim said getting that first rodeo off the ground was no easy task.
"I remember that it was a big mess, but we got it done — we had lots of help," he said. "I lost a lot of sleep over it but it turned out pretty good."
In 1981, Lucy said she, Jim and Joe spent more than $5,000 in out-of-pocket expenses to get the rodeo started.
"The next year we just got better and made sure we had our president and vice president and it went on from there," she said.
The first rodeo, in 1978, was called the Old Time Cowboys Reunion and was held in Flagstaff. At first, cowboys had to provide a paycheck stub or other verification to prove they worked on a ranch. Even then the rodeo was family oriented. In 1981, Lucy remembers Joe and Jim talking about getting the rodeo started in Williams.
"I think it was in '81 when Flagstaff — they had a fire, it was one of those deals, and then they wouldn't let them have their rodeo there so Joe Rogers and Jim and I went to the city of Williams and (I) did most of the bargaining to ask them to let us use (the rodeo arena). Now it's still here," Lucy said.
Jim said he wanted a rodeo to remember the time and the friends he made while cowboying.
"I was still living on the (Babbitt) Ranch, but I'd joined the Elk's Club and I got to thinking about the (rodeo) in Flag that had started and then they'd given up on it," he said. "I thought it was a pretty good deal. I was talking to Joe Rogers — who had talked me into joining the Elk's and I told him I'd like to have a rodeo to remember all this."
Jim and Joe tried to get the Elk's Club to host the rodeo and they talked to the Williams Mountain Men. When neither of those ideas worked, Jim suggested they organize the rodeo.
For that first rodeo, Lucy ran the cook shack — she had owned and operated two restaurants, both called The Little Fat Lady, in Williams and Ash Fork.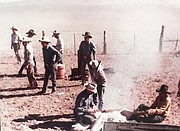 "It was nice. We ended up having some trouble with a couple people but we got it done," she said. "We had a good turn out — it was really hard to believe how good of a turn out we had. Now it's still going and we thank the good Lord."
Lucy said the first rodeo was attended by ranching families and many community members.
"Our town supported it," she said.
Carrie Gross, executive secretary for Arizona Cowpunchers Reunion Association (ACRA), said Lucy and Jim will be recognized for their efforts as some of the founding members and a driving force behind the first Arizona Cowpuncher's Reunion and Rodeo.
"Jim and Lucy were one of the founders of ACRA. They are getting older and we wanted to recognize what they have done for our association. That's why we have decided to dedicate the rodeo to them on Saturday," she said.
Because of their health, the Kreutzers have not been able to attend the rodeo for several years, however, they hope to attend Saturday's performance, where they will be honored at 1 p.m.
"We hope and pray. My kids say they're going to come and take us if we're still alive. Only the Lord knows," Lucy said.
More like this story