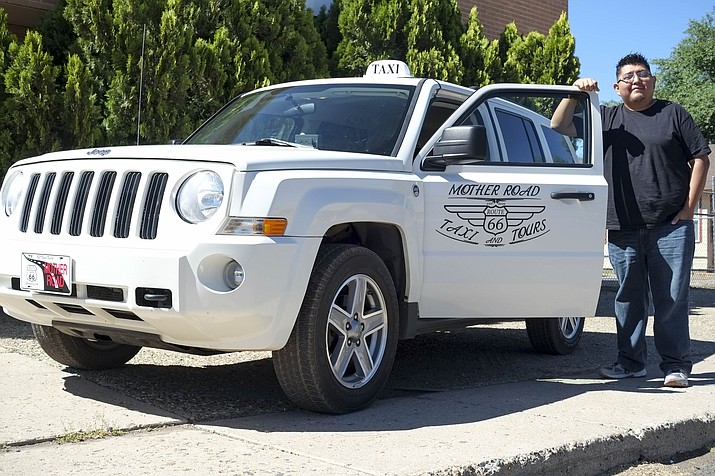 Originally Published: June 12, 2018 6:48 a.m.
After driving for Uber for one and a half years Eric Poocha and his wife decided they wanted to open their own taxi service. Mother Road Taxi and Tours now operates in Williams with two cabs and services Williams and surrounding communities.
Drivers for Mother Road include Poocha, his wife, father-in-law and his brother. As business picks up, Poocha said they hope to gradually expand to Flagstaff.
"For now we're running two cars here, 24 hours," he said. "We can pretty much go anywhere from the Williams area. I've done pick-ups from Valle, Tusayan, up (Highway) 64 and Flagstaff and the airports and at Amtrak. Pretty much whatever you need we can accommodate."
From his experience as a Uber driver, Poocha said he knew he could provide a more satisfying service to his clients.
"We thought of running this as Uber, just buying cars and running it through the Uber app, but looking at both sides of it I think it's better we did it this way," he said.
Poocha said he believes personal taxi services have suffered because of the increase in Uber services.
"To counter that we're trying to — there's a couple of national companies that do provide an at-base reservation service and we're trying to get involved with them… so we can counter the Uber thing," he said.
Poocha said he offers the same convenience and amenities as Uber. They also offer bottled water and snacks for clients.

Within the next month, Poocha plans to offer day trip services to various places in northern Arizona. He said he does not want to infringe on businesses already offering trips to the Grand Canyon. Instead, he plans to offer excursions to other popular areas like Sedona and special artisan trips to the Navajo and Hopi reservations.
He would also like to encourage clients to extend their stay in Williams and make it their home base as they explore the area.

"We want to start running day trips where they can see other parts of northern Arizona but then they're coming back here at the end of the day," he said.
Mother Road Taxi and Tours charges $2 for pick-ups and $2 per mile. Poocha said Mother Road Taxi and Tours will match or beat any rate quoted by Uber.
More like this story