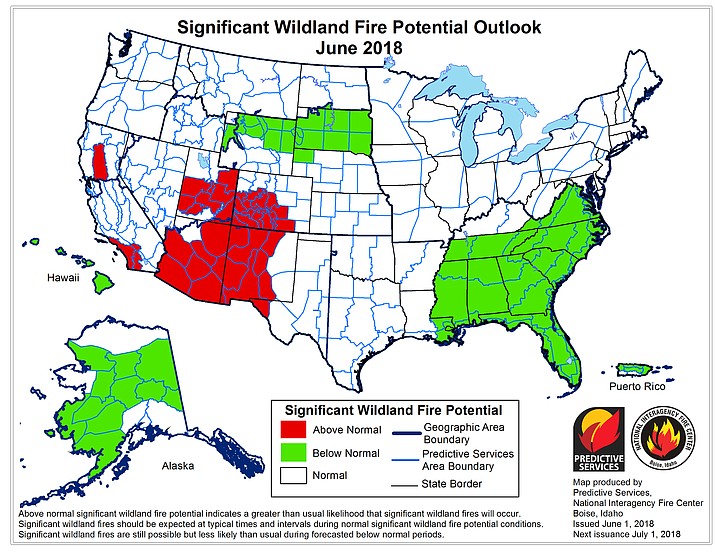 Originally Published: June 12, 2018 10:56 a.m.
ARIZONA — In May, Secretary of Agriculture Sonny Perdue and Secretary of the Interior Ryan Zinke hosted a fire briefing for members of Congress at the U.S. Department of Agriculture to highlight the importance of inter-departmental collaboration to increase firefighter, public and community safety.
They also gave a recap of the 2017 wildfire season, which was one of the most challenging years on record.
Their report stated the federal government spent $2.9 billion — the largest amount ever — on suppression operations in 2017. That year also saw 14 wildland firefighters die, and approximately 71,000 wildfires burn more than 10 million acres of federal, state, tribal and private lands.

The National Interagency Fire Center (NIFC) Predictive Services recently released its National Significant Wildland Fire Potential Outlook for June through September.
The report stated that a combination of deepening drought and the carryover of fine fuels from 2017 is expected to lead to above normal large fire potential across western portions of the Four Corners Region and Southern California in June.
Late June through early July are the peak fire season across the southwest.
During July, activity may begin to spread west and north with the drying and curing of the fuels as the southwestern monsoon season begins.
The U.S. Drought Monitor showed three primary areas of continued drought across the nation: the Southwest, Oregon, and portions of the northern Great Plains.
Above normal wildland fire potential is expected across the western two-thirds of the southwestern Region in June followed by a return to normal potential from July onward. All areas will see normal fire potential July through September.
The temperatures should generally remain warmer than average with drier than average conditions for much of southwest area through June
As June evolves, increased moisture from both the south and east will lead to periods of increased lightning. This could combine with periods of heat and wind to provide and impetus for the above normal fire potential forecast for much of the southwest area.
The National Significant Wildland Fire Potential Outlook is a support tool for wildland fire managers, providing an assessment of current weather and fuels conditions and how these will evolve in the next four months.
The full NIFC report can be read at www.predictiveservices.nifc.gov/outlooks and Zinke and Perdue's memo can be read in its entirety at https://www.usda.gov/sites/default/files/documents/usda-doi-wildland-memorandum.pdf.
More like this story