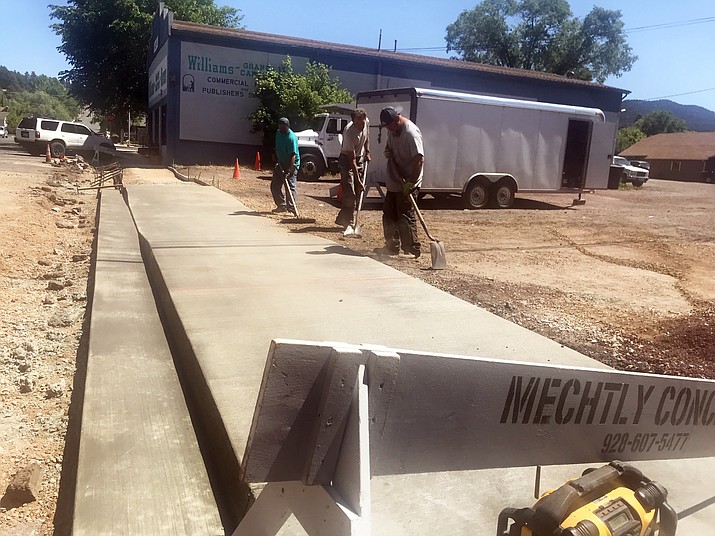 Originally Published: June 5, 2018 10:31 a.m.
For anyone who has driven or walked around town recently you may have noticed the work being completed on many of our sidewalks and roads. These much needed improvements are a welcome sight.
Most recently, new sidewalks are being completed on the east side of the Sultana Bar and Lucy Toos restaurant. Prior to the replacement, this sidewalk was pocked with craters and landmines. For those frequenting the bar or any neighboring businesses, it was a game of wearing the right shoes and playing hop scotch to ensure safe passage.
There are several entities to thank for these repairs. The city of Williams is completing the paving work on the city streets and are removing most sidewalks. Dave Mechtly, owner of Mechtly Concrete, is responsible for replacing the sidewalks.
It's been hard work that locals and visitors will appreciate for years to come.
Mechtly and his three- man crew have had to dig out 18 inches below the sidewalk next to the Sultana Bar before placing four loads of AB (aggregate base) to be used as a base for the sidewalk. The newly laid sidewalk has four inches of concrete and the gutters will have six inches.
To date, Mechtly has completed sidewalk replacements on Grant Street from Ninth to Sixth Street as well as patching bricks on Second Street and Railroad Avenue in six different areas. Additional work completed has been on Fifth Street from Railroad Avenue to Route 66. They will also complete sidewalk repairs on Fourth Street and Grant. Mechtly said the city will determine what sidewalks will be repaired next.

Mechtly said the sidewalks he's repaired so far were way overdue.
"They were bad. Some places you can't tell where it's sidewalk or just AB," he said. "On Grant Street, each intersection was a different width, some sidewalks were up, some were down — some places there isn't (any sidewalk), some have curbs, some have curb and gutters, some don't have it. The idea was to pave the streets but (to) do the curb and sidewalk and gutter first — do it right."
Over the next few months residents can expect to see a combination of repairs on the streets.
But for today — and in the future, rest assured, these repairs will save ankles and make our city more appealing.