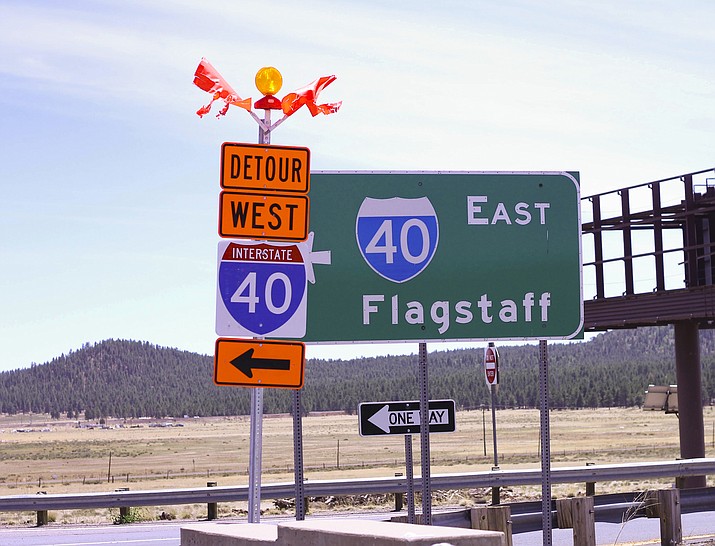 Photo by Loretta Yerian.
Originally Published: July 24, 2018 10:22 a.m.
WILLIAMS, Ariz. — Businesses along the I-40 corridor from Parks to Williams have taken a financial hit this summer as road construction and ramp closures continue.
The Grand Canyon Deer Farm saw a major decline in visitation and sales through the months of May, June and July and Parks Mercantile has had a 40 percent decline in sales since exit ramps were closed at Parks more than a week ago.
"It did take a toll on us — May, June and July," said Patricia George, owner of the Deer Farm. "We've been on a pretty high percentage of increase between 18 and 28 percent and then when they started that we were down below — instead of increasing we were going under the numbers from last year."
The exit for Deer Farm Road has been opened, but George said it is still unclear as to whether or not the eastbound ramp is going to be closed at a later date.
"If they close our eastbound ramp and Parks' eastbound ramp and people have to go 15 miles up to Bellemont and turn around and come back 15 miles, that's going to take even a bigger toll," she said. "That's 30 miles out of the way."
At the Parks exit, two of the four ramps are currently closed — the ramps to and from Flagstaff are closed, and the ramps to and from Williams are open.
"We were prepared for this. We knew it was going to happen," said Parks Mercantile owner Bart Bartel.

He said when the ramps were closed last year at the Bellemont exit his store was able to get extra business.
"I'm not mad, it all evens out but yeah, short term, we've lost about 40 percent," he said.
Employees at Circle Pines KOA said they also noticed a decline in visitors and sales and said many guests were confused on how to get to the KOA or got lost trying to navigate through the detours. This was also one of George's biggest problems at the Deer Farm.
"They (ADOT) didn't tell people where to go when they got off the highway. It's been a bad deal," she said.
Three weeks into the project George's husband Randy George started calling to see why ADOT did not provide any instruction on where travelers should go once they exited the interstate.
"They would have to zip past Deer Farm Road and get all the way to Williams and then they didn't know where to go. There wasn't any signage up there," Patricia George said.
"It was a problem. We had one guy call us and he was already up to Highway 180. They were just going every which way," she added.
George said the Deer Farm requested that signs but put up to re-direct tourists back to the Deer Farm by getting on I-40 east and exiting on Deer Farm Road (the eastbound on-ramp at Deer Farm Road was open) but said (ADOT) responded by saying they had to keep traffic on I-40 and could not provide signage or do anything for one particular business.
"He (Randy George) told them that Deer Farm Road is the road, that's the exit. They did have signage that said Pittman Valley (road) but how many people know that Pittman Valley Road and Deer Farm Road are one and the same?" George asked.
George said even after tourists figured out the exit they needed to take they were still getting lost.
"There was a whole lot of confusion and not a whole of information for the people. It was not a well thought out plan," she said.
George was able to reach some tourists through posting notices on social media and on their website.
"We put a big notice on our website and on social media, but on social media it kind of gets moved down as you add more things so it gets lost in the shuffle. We try to update them," she said.
Before the ramps were opened, signage was posted on I-40 for Deer Farm Road and on the turn-around at Williams.
"So, I'm hoping they'll do the same when they send (traffic) the other direction," she said. "It's been a frustrating thing. Hear is the thing, I fully understand these highways needed to be fixed. So many tires were blown out on that road… it needed to be done but I just don't feel like they're doing a very good job of re-routing people that are lost."
Most of Bartel's losses have been to tourists exiting the highway. He said locals are still stopping to check their mail and make purchases.
"Locals have been great. They've been very supportive and I haven't seen that much of a drop off in local dollars," he said. "They understand we need to do business like everybody else."
Bartel said they have been able to update people about the ramp closures via Facebook.
"I really felt sorry for the Deer Farm this summer. They were closed so long," Bartel said. "It's hard to detour to get to the Deer Farm. We had a few people stop here and ask directions and I could send them down (Route) 66. But I feel really sorry for the Deer Farm because they've been impacted most of the summer. If ours ends up only being three weeks, I'll consider ourselves lucky."
Bartel said he was told by ADOT that the ramps would be closed through the end of July.
Cataract Lake to Parks construction
The I-40 construction between Cataract Lake to Parks is being completed in two phases.
It began with work on westbound I-40 between Garland Prairie Road and Pittman Valley Road in early April and has now moved to eastbound I-40 between Pittman Valley Road and Garland Prairie Road. Construction will pause for the winter season and is scheduled to resume in spring 2019 for additional paving, bridge and intersection work. The project is scheduled for completion in late 2019.
"Crews will work until the weather turns cold and then return next year to finish the project," said ADOT spokesman Ryan Harding earlier this year. "This project is mainly repaving with some spot rebuilding between Garland Prairie and Pittman Valley roads."
Crews are scheduled to work Monday through Friday from 5 a.m. to 6 p.m. One lane will remain open in each direction throughout construction.
Starting in mid-July travelers can expect to see both the Garland Prairie and Pittman Valley or Deer Farm Road exits open and the Parks exit closed, according to ADOT. When the Parks exit closes traffic will be detoured to the Deer Farm Road exit. The Parks exit and detour will last through early August.
"We can't close Parks (exit) until we have Garland Prairie and Pittman opened back up," said Dave Gregson, project manager for Fann on the Cataract Lake to Parks project. "When we close Parks — the ramps on the west side of Parks bridge, toward Williams, both of those ramps are going to remain open."