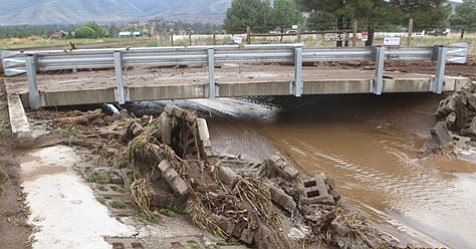 Originally Published: July 20, 2018 2:21 p.m.
NORTHERN ARIZONA – Following extraordinary monsoons July 18, Coconino County has declared a state of emergency.
According to the county, numerous private properties were impacted with flood waters and debris from the forest. County roadways, on-forest sediment reduction measures and off-forest floodwater conveyance channels were also damaged by torrential rain during the July 18 storm.
Rain fall totals in the affected area were between 5.35 inches to 5.94 inches in under two hours, during the 1,000-year rain event. The event followed two other large storm July 14 and 16.
Coconino County has had personnel in the field clearing roadways and channels of debris and doing damage assessments. There has also been a fully staffed Emergency Operation Center in support of field crews since July 18.
With the ground saturated, additional flooding is expected in the area. The U.S. National Weather Service forecast for the next several days predicts similar potential for high impact weather events and further flooding and damage. Preliminary cost estimates are underway.
Residents of the affected area who have received property damage are encouraged to call the County Call Center at (928) 213-2990 so officials can connect residents with resources for recovery. A sandbag site has been established at the old Tumbleweed Store site at which is at 11985 East U.S. Highway 89 (across from the confluence of Copeland Lane and Highway 89).
More information is available at www.coconino.az.gov/SchultzFloodInformation.