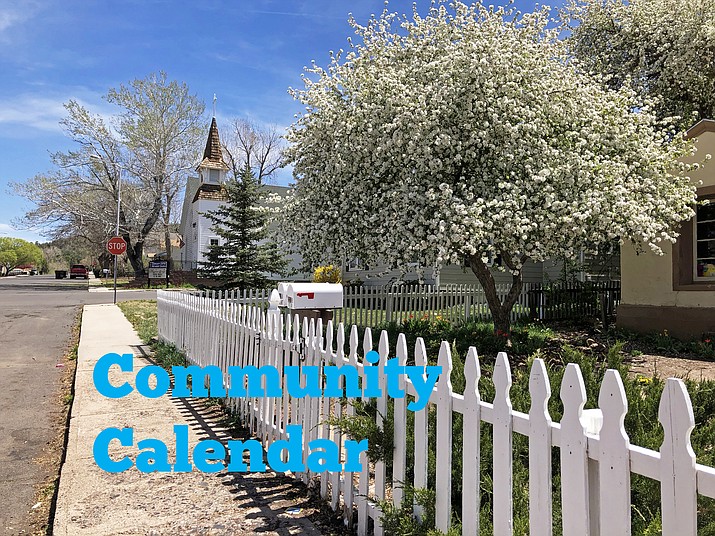 Originally Published: July 10, 2018 2:41 p.m.
Williams Monthly Star Party July 20
Members of the Coconino Astronomical Society, in conjunction with the city of Williams, will host its monthly Star Party from 7:30 to 9:30 p.m., at Glassburn Park, in the natural area west of Rod's Steakhouse parking lot. Several large telescopes will be on hand to view the Moon, planets and other celestial objects.
Advocates needed for foster children
Court Appointed Special Advocates (CASA) are needed to represent foster children in Coconino County. Providers spend 15-20 hours each month on behalf af an assigned child. They gather iformation for a child's case and give recommendations to a judge regarding the best interests of that child. More information can be found at (928) 226-5420.
Head Start accepting applications
Williams Head Start is accepting applications for the 2018-2019 school year. Three options are available for children - preschool for ages 3-5 years in a classroom setting, home-base serves children 3-5 years at home, and early head start serves pregnant women and children 0-3 years at home. More information available at (928)635-4273.
Saturday market
Each Saturday through the summer vendors with homemade and homegrown goods, such as home baked breads, soaps, fresh eggs, crafts and the famous 'ola Granola will meet in front of Our Mountain Home Gallery at 428 W. Route 66.
Parks Community Garden
The Parks Community Garden is open for the summer. Fresh honey, vegetables, salsa and other homemade goods will be available. It is open 9 a.m. to to noon near the Parks General Store on Spring Valley Road.
Second Saturday Art Walk
The Second Saturday Art Walk in Williams meets every second Saturday of the month from May through October, 6-9 p.m. The event includes free food, wine, live demos and music. More information is available at The Gallery in Williams at 145 W. Route 66 or by phone at 928-635-3006 or visit www.thegalleryinwilliams.com.
Art Walk in Williams 2018 dates: July 14, Aug. 11, Sept. 8 and Oct. 13.
WUSD Governing Board meetings
The public is invited to attend Williams Unified School District Governing Board meetings on second and fourth Wednesdays each month. Meetings are at Williams High School culinary room at 6 p.m. See WUSD2.org for meeting agendas.
Williams City Council Meetings
The public is invited to attend the Williams City Council meetings on the second and fourth Thursdays of each month. Meetings are at the City Hall council chambers at 7 p.m. See williamsaz.gov/government for meeting agendas.
Prayer line available
Holiness Congregation Church now has a dedicated phone line for prayer requests and/or for those in need of a minister. The phone line is for calls only as texting service is not available. All calls will be confidential. The phone line is (928) 853-5109.

High school and adult basketball
The city of Williams has pick-up basketball every Wednesday from 6 p.m.
Regional Calendar:
Arborteum Eco-Explorer Camps
Eco Explorers summer camps at the Arborteum at Flagstaff are nature-based, experiential, STEAM-centered camps for young explorers. Camps are available for ages 4-11, with age-specific groups. Programs have quality educators, excellent curricula, and positive outdoor experiences. With a new theme every week, it's never the same adventure twice. Events include: Art in the Garden runs July 15-20. Some scholarships available. More information is available at www.thearb.org/learn/summer-camps.
Summer Kids Camp: The Art of Filmmaking through July 20
For those looking for a brilliant summer opportunity the Sedona Arts Center has a unique program for children. Sedona Arts Center's 2018 summer camps for creative kids features two weeks of instruction in filmmaking with Bryan Reinhart and Kelli Klymenko from July 9 through 20. Registration is open and scholarships are available. Those interested can register online at SedonaArtsCenter.org.
Circus Camp July 16-27
Coconino Center for the Arts is hosting a Circus Camp July 16 - 27 from 9 a.m. -1 p.m. | Children ages 6-14 of all ability levels will learn circus skills such as stilt walking, acro balance, tumbling, clowning, aerial dance and trapeze, juggling and more. Prices are $400 for 2 weeks, $250 for 1 week, and $65 per day drop in.
Summer Figure Drawing Sessions through Aug 27
Artists may draw from a live model in the main gallery at the Coconino Center for the Arts June 11 - Aug. 27 from 6 - 9 p.m. This opportunity is for those artists who would like to draw or create using the model as inspiration but do not wish to have instruction. For Arts Council Members, all 12 sessions are $175, 4 sessions are $65, and per session is $18.
More like this story