Originally Published: July 3, 2018 9:01 p.m.
Updated as of Tuesday, July 3, 2018 9:01 PM
Firefighters with the Kaibab National Forest, Williams Fire Department and other local agencies have halted the spread of the 5-acre Prairie Dog Fire, located one mile northeast of Williams and just west of Highway 64.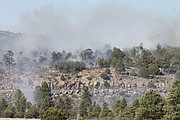 Because of the success of the suppression efforts in limiting the wildfire's spread, the evacuation of Kaibab Lake Campground has been lifted. Campers are allowed to return to the campground immediately, according to Kaibab National Forest.
Fire resources remain on scene and will continue working through the evening toward containment of the Prairie Dog Fire.
Original post: 6:40 p.m.
According to Williams Mayor John Moore, responding firefighters found a rapidly moving ground fire near the railroad tracks used by the Grand Canyon Railway Train.
Based on the wind gusts and potential spread of the fire, Kaibab Lake Campground and Day-Use area was quickly evacuated by Williams Police Department.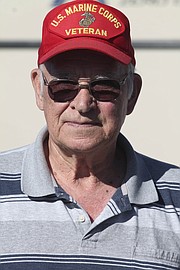 "Police came through and the forest guys came through and said there's a fire over the hill and you need to get out," said John Dietz, a Kaibab Lake camper who was evacuated to the Williams Rodeo Grounds.
Dietz and his wife were on the second day of a 14-day camping trip to Kaibab Lake. The couple resides in Sun City, Arizona.
"A lot of people had to leave their stuff – their RVs, tents, they just had to get out of there," Dietz said.
Dietz said the officers did not give them a time frame to pack up, but just told them to immediately leave.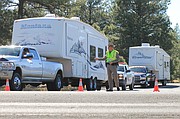 "We figured we would leave the trailer, but then we said 'where are we going to go?', so we took the trailer with us," he said. "We put everything together real quick, I hooked up just enough to tow it and then I put the bars on here."
Fire resources on scene include five engines, one bull dozer, two water tenders and several individual firefighting personnel, according to a Kaibab National Forest press release.
"Some of the campers may have gone to some other RV parks, but they are going to be full," Dietz said. "Hopefully they will get the fire out and we'll be back over there."
Williams Police Chief Herman Nixon said the cause of the fire is unknown, but the extremely dry conditions allow a fire to start easily.
"This time of the year you get people pulling vehicles with chains that can start fires, trains start fires," Nixon said. "It's so dry, I mean I'm sure this won't be the only one we're on this week."
Kaibab National Forest said the cause of the Prairie Dog Fire is under investigation, but it began on private property.
More information will be posted as it is made available.