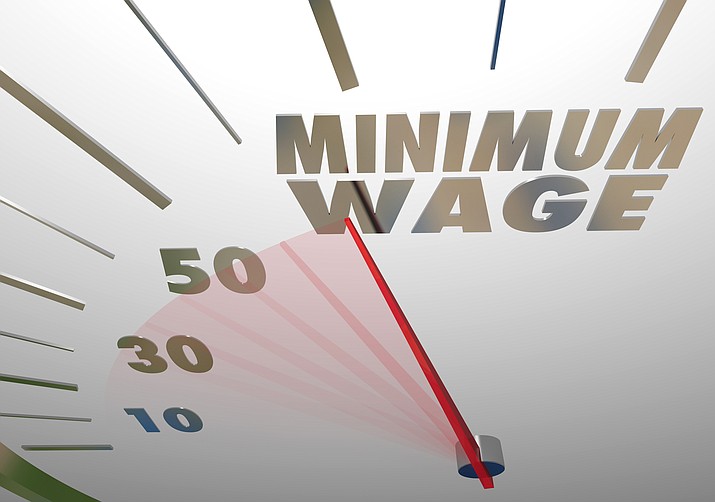 Originally Published: January 23, 2018 1:37 p.m.
Many workers in Williams have already seen a boost in their paychecks with the increase in minimum wage in January, and most will see another increase in February with the adjustment to the IRS withholding tables.
The minimum wage in Arizona rose from $10 to $10.50 an hour Jan. 1 following the passage of Proposition 206 last year. The measure will eventually raise the minimum wage to $12 an hour by 2020.
The U.S. Treasury Department also released new IRS withholding tables in January because of the recently passed tax-reform bill.
The Treasury Department estimates that 90 percent of workers should see a decrease in withholding amounts which will result in more take-home pay.
What is a withholding table?
A withholding table tells employers how much tax to withhold in a paycheck. It depends on employees' wages, marital status and number of withholding allowances claimed. Employees typically fill out a form W-4 beginning a new job. Some employers have employees complete a new form W-4 at the beginning of each year.
Some people are exempt from withholding, but most are not.
The more allowances that are claimed, the less federal income tax an employer will withhold from the paycheck resulting in bigger take home pay. The fewer allowances claimed, the more federal income tax an employer will withhold.
Larger paychecks are nice, but if not enough money is withheld, the IRS will recapture it during tax time.
When will new withholding tables go into effect?
According to the IRS, employers should begin using the 2018 withholding tables as soon as possible, but no later than Feb. 15.
The new withholding tables are designed to work with the current W-4 forms that employers have on file for their employees.
The new tables reflect the increase in the standard deduction, repeal of personal exemptions and changes in tax rates and brackets, the IRS said in a statement.
To determine withholding amounts, the IRS will have a new calculator in place on IRS.gov by the end of February. The new W-4 form and revised calculator will reflect additional changes in the new law, such as changes in available itemized deductions, increases in the child tax credit, the new dependent credit and repeal of dependent exemptions.
How will it affect your paycheck?
According to CNN Money, take-home pay for a person claiming single status and one withholding allowance, with gross annual income of $50,000 paid biweekly, would increase by about $55 per pay period, or approximately $1,440 per year.
How soon will I see changes?
The time it will take for employees to see a difference in their paychecks depends on how quickly the new tables are implemented by employers and whether they are paid weekly, biweekly or monthly.
The IRS said the timing depends on when employers make the changes, but employees should see a change sometime in February.
Will I need to do anything?
Employers will make the changes, employees are not required to take extra steps. Employees may want to review their withholding for accuracy.
Early Release Copies of the 2018 Percentage Method Tables for Income Tax Withholding can be found at https://www.irs.gov/pub/irs-pdf/n1036.pdf