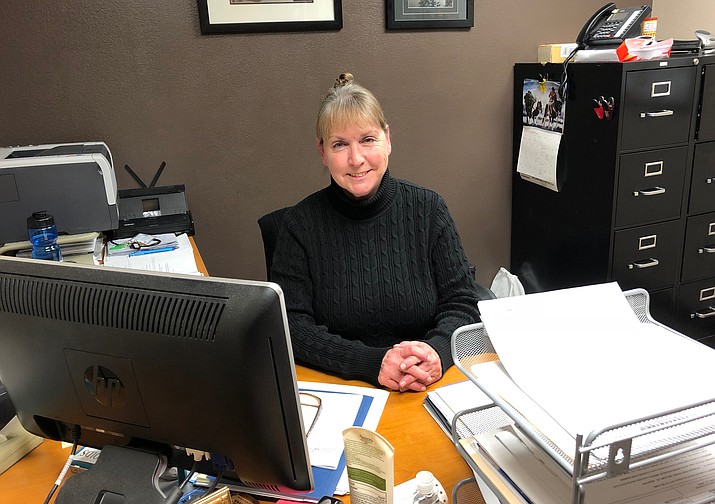 Photo by Wendy Howell.
Originally Published: January 9, 2018 10:35 a.m.
The city of Williams has selected Sue Bennett as the new deputy city clerk.
Bennett began with the city as an administrative assistant and was sworn in as the deputy city clerk at the Dec. 14 city council meeting.
After living in Santa Barbara, California for most of her life, Bennett and her husband moved to Williams in 2007.
In California, Bennett worked as an administrator with Child Protective Services and as a transportation coordinator for an Anheuser-Busch trucking contractor. Her husband was a carpenter.
After a vacation to the Williams area in 2006, Bennett and her husband decided to relocate to Williams where Bennett was hired at the Grand Canyon Railway.
"I knew the railroad after working in the trucking business," Bennett said. "I came in as an HR administrator and then I moved upstairs with the general manager for the remainder of my time."
When the position came open with the city, Bennett applied.
"I was just thrilled to hear they were going to give me this position," Bennett said. "I'm honored and excited at the same time."
As the deputy city clerk, Bennett will assist the city clerk with a variety of duties. These include attending and taking notes for city council, planning and zoning, the historical society and other city meetings. She also is in charge of all the physical records at the city building.
"We keep historical society meetings, council meetings, all the building and planning permits, and we have payroll, personnel, accounting and risk management," she said. "Our whole back room is loaded with documents."
Along with city clerk duties, Bennett will also be the administrator for human resources.
To become a certified city clerk, Bennett is required to participate in a 6-month city clerk program with the state.
"I start in March of this year and hopefully will be certified by the end of the year," she said.
She said the training requires knowledge of election procedures and council proceedings. She said she has to understand the city's statutes, ordinances and resolutions.
"It requires a lot of reading and research," she said. "It's going to be a challenge, but a fun one."
Bennett is available at city hall Tuesday through Friday, from 9 a.m. to 5 p.m.