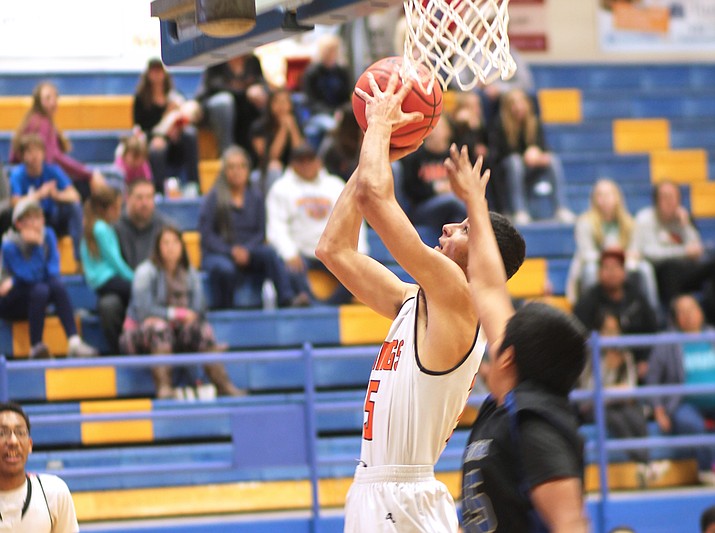 Originally Published: February 27, 2018 12:55 p.m.
Despite one of the best seasons on record and a big win in the first round, time ran out for the Williams Vikings Feb. 17
Despite a dominating 68-35 win over No. 12 Baboquivari (17-10, 11-1) at Prescott High School in the first round of the 1A State tournament Feb. 16, the No. 5 Vikings advanced to the quarterfinals only to be dealt a 66-43 loss by NFL YET Feb. 17.
Easing into the first round game, the Vikings were nearly tied with the Baboquivari Warriors at the end of the first quarter, as the Warriors led 12-11, but the Vikings tall-men outplayed the Warriors with the Vikings taking over the second (14-5), third (25-13) and fourth (18-5) quarters.
Viking Will McMenamin sunk 10 of 15 to lead the scoring for the Vikings with 21 points. Zack Perkins followed with 12 points and Stephen Gary with 10.
"William and Zack had really good games," Mortensen said. "They just really couldn't stop our bigger guys. We just decided to play them that way and it worked."
McMenamin led with 11 rebounds for the Vikings, followed by Payce Mortensen with nine, and Perkins and Juaquin Gutierrez with eight.
"The boys played really well, it was a good fun game for them," said head coach Troy Mortensen. "They beat us last year so I think the boys did not want to let that happen again."
The Vikings returned the next day to face the No. 4 NFL YET Eagles (13-3, 7-0 ).
The Eagles came out strong against the Vikings in the first quarter as the outscored the Vikings 23-5. The rapid pace of the team was too much for Vikings.
"They are really talented, they are just quick," Mortensen said of the Eagles. "They got us running and just outplayed us especially in the beginning of the game. It took a while to adjust to their tempo and speed. They are very aggressive and have some good players."
The Eagles advanced to the semifinals Feb. 23 where they fell to the Gregory School 81-66. The Gregory School went on to win the state championship 65-46 against Ft. Thomas.
The Vikings ended their season at No. 5 in the 1A Conference with a 23-9 record.
Payce Mortensen led the team in scoring this season with 525 points and a 46 percent shooting percentage. He had 132 rebounds, 102 assists, 96 steals and 128 forced turn-overs.
McMenamin followed Mortensen with 277 points, 192 rebounds and 67 blocked shots.
The Vikings will lose Perkins, Mortensen, Diego Pedraza, Gutierrez, Noah Walters, Daniel Lopez and Brandon Tuhy to graduation.