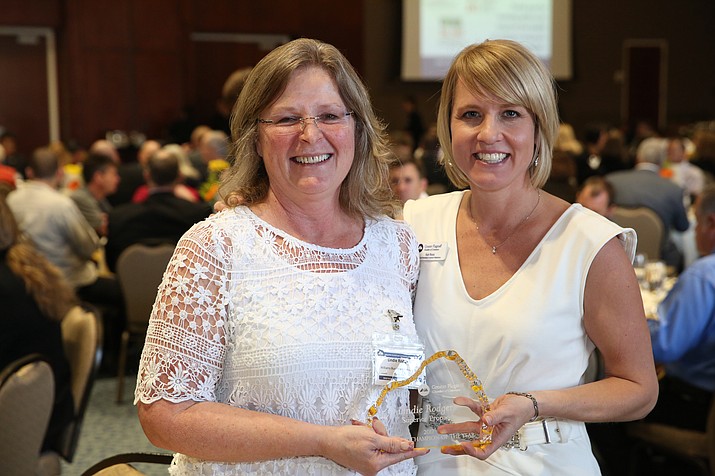 Originally Published: February 27, 2018 12:11 p.m.
Lindie Rodgers was born into the propane business — it's a family tradition.
In 1956, Rodgers' grandfather and father purchased a propane business in northern California. By the time they sold the company in 1996, Superior Propane was servicing seven counties and was one of the largest independently owned propane companies in California. After her father retired from the propane business in 1997, Rodgers and her husband Bill moved to Arizona and opened Superior Propane in Williams. For the last 21 years, Superior Propane has been a family name, servicing customers throughout northern Arizona.
Rodgers was recently named the 2017 Chamber Champion of the Year for her involvement and commitment to the Williams community and for representing Williams businesses for the Greater Flagstaff Chamber of Commerce. Her award was presented at the ATHENA Leadership Awards event put on by the Flagstaff Chamber Feb. 9 in Flagstaff.
"I was shocked. I was not expecting anything at all," Rodgers said.
Donna Eastman Liddle, finance and membership resource director for the Flagstaff Chamber, said Rodgers has always been an advocate for chambers in the community.
"We already had eight members that had already joined the Flagstaff Chamber but when I first came to town and pitched (Williams Business Alliance) to Lindie she was like, 'absolutely, I am on board,'" Liddle said. "Not only did she join, she joined at a leadership level which is a good financial commitment to the Chamber, she came to all our meetings and she is a good advocate to the community and, for what we do as a chamber. So Julie (president of Flagstaff Chamber) said as far as being a champion of our chamber we really felt like she stepped up to the plate this year, so that's why she was nominated. It's a big deal."
This was the first time Rodgers had attended the awards event and said she was excited to be surrounded by other women in business and to meet Arizona Gov. Doug Ducey, who was the keynote speaker.
"Boy, what an eye opener. The women in business — it's just unbelievable and it's wonderful to see," she said.
Rodgers served on the Williams-Grand Canyon Chamber of Commerce board for 12 years before it was dissolved in 2016 and was the treasurer for Williams' Clean and Beautiful committee and was the president and treasurer of Williams' Rotary. She currently serves as a board member on the Flagstaff Chamber, promoting Williams businesses through the Williams Business Alliance.
One reason Rodgers said she joined the chamber board was to be supportive of the Williams' Business Alliance.
"I really love Williams and our community and I really support our businesses here and I feel that the chamber can help get the businesses recognized that are here in Williams," she said. "Just so we, as businesses, know there is a support out there that can help us with political issues and business issues (and) making sure that if we do have an issue we're not out there like fish out of water, we have a place that we can go that we can get some support."
Superior Propane
Since it's establishment in 1997, Rodgers said business has been good and Superior Propane has flourished.
She said she is happy to say that most of Superior Propane's competition is from other small business owners.
"It's kind of nice to say that our biggest competition is other small companies, independent and not the big guys," she said. "We've done very, very well and I think it's our reputation that helps us to grow, we are family owned and we do care about our customers and the community. When you call us we try and make sure you're not a number but a person and I think that's really helped our growth."
Superior Propane serves customers within a 100 mile radius of Williams, including Winslow, Sedona, Prescott, the Grand Canyon, Ash Fork, Seligman and many areas in between. Rodgers said many of their customers live in rural areas.
"That's where all of our business is — in the rural areas," she said. "Anywhere where there is no natural gas … we are not normally right in town."
Superior Propane has eight full-time employees and has one office located in Williams.