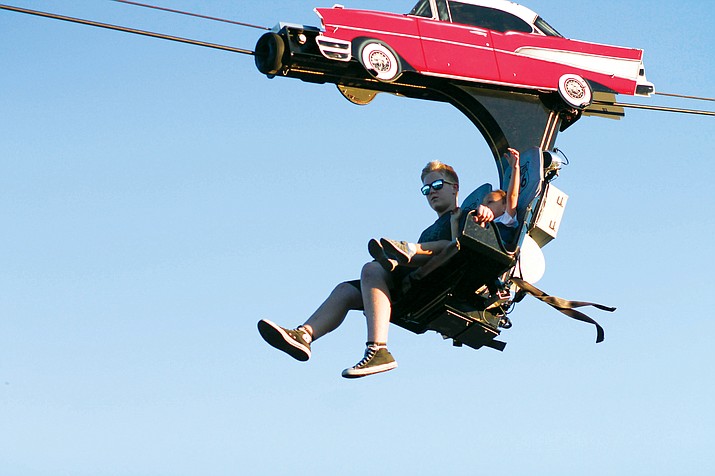 Originally Published: February 13, 2018 9:50 a.m.
WILLIAMS, Ariz. — Visitation is up in Williams. The Williams Visitor Center reported 97,527 people came through their doors in 2017. That number is up from about 86,000 in 2016.
Heather Hermen from Front Burner Media reported the statistics as she gave her quarterly report at the Williams City Council meeting in January.
Hermen said one focus for this spring is working the tourism market in China. She said her company has partnered with the Arizona Office of Tourism, who has printed a map of Arizona to be distributed there.
"We have an ad at the top of the map and it's the first ad they see when they open it up," she said.
Hermen said the Office of Tourism has printed 8 million copies to be distributed in China.
"We anticipate some good coverage from that and some good audience from it," she said.
Hermen will be going to China in early March to meet with media in the Shanghai and Beijing areas. She will also meet with individuals in the travel and trade industry.
"We're going to reach about 100 journalists in that time period who reach a combined audience of 500 million people," she said.
Hermen's last trip to China consisted of on-air interviews and TV advertising through an interpreter. She said by the time she returned home, she received word that the commercials had been viewed by 11 million people.
"I would expect we would have the same kind of results as we did last time I was over there and quite possibly better," she said.
Hermen said she continues to work on the ExperienceWilliams.com website. Her latest analytics found that 83 percent of the traffic to the website were from new viewers. She also found that 80,000 of those users are utilizing mobile devices.
"That tells me we need to ramp up our mobile presence," she said.
Hermen plans to work with a videographer and drone photographer to market Williams more.
"I'd like to do interviews of local business owners and people who live in the community to tap into the history we have here," she said.
Hermen said her company plans to learn toward more video marketing and social media. She said they are looking for social influencers — those with Instagram accounts with at least 150,000 followers and people of YouTube with at least 2 million views.
"These people are easy to bring into the community, they don't expect much," she said.
Hermen said she also hopes to bring more journalists to the area this year. She said she recently had a writer for an inflight magazine for Air New Zealand visit who was also on assignment for the San Francisco Chronicle.
"She stayed for two nights and fell in love with Williams," Hermen said. "She said she wants to come back when it's warmer."
More like this story