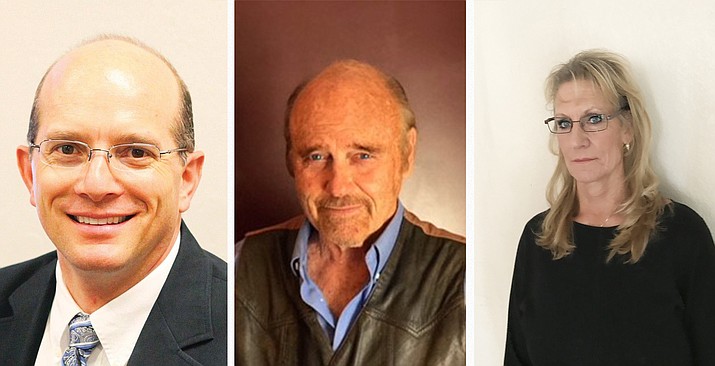 Originally Published: August 7, 2018 11:34 a.m.
Three candidates, Brian Flescher, Rob Krombeen and Annie Shumway, are running for Williams justice of the peace. Krombeen is the incumbent.
Here are brief biographies and questions and answers, submitted by the candidates in alphabetical order, for voters. Each candidate had a combined 300-word limit for the questions.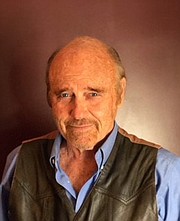 Brian Flescher
What experience qualifies you for justice of the peace?
I have a doctor of psychology degree with post graduate and professional coursework in crime analysis, criminal intelligence, criminal profiling and crime statistics. I have been a county and state investigator for 12 years and have been a forensic psychologist, criminologist and legal researcher as an Arizona licensed private investigator since 1986. I have also taught college level courses in administration of justice and psychology since 1975. I have successfully appealed numerous veterans' disability claims and recently prevailed in a 28-year-old claim with the Veterans Administration.
I am also a Purple Heart disabled Air Force emergency room technician and combat medic veteran of five years.
What's the role of the justice of the peace in a small community?
The role of a justice of the peace in a small community is to ensure the rights of individuals in civil and criminal court cases are protected. It is also necessary to ensure citizens receive an informed, educated, impartial, unbiased and rational decision in court proceedings. In this way, citizens will not be discouraged from pursuing future legal issues in court. This means the judge must be legally well-read and know the law of those cases before the court.
What changes, if any, do you think should be made in our local court system?
I am not certain if the same judge should be in the City (Municipal) Court and the Justice Court. Citizens who are dissatisfied with the outcome of a city court case may not think it would be any more successful in a Justice Court matter with the same judge. In addition, it is my opinion the current judge is not well read in the law nor does he know the law as he should after almost eight years.
Rob Krombeen
What experience qualifies you for justice of the peace?
I have 31 years criminal justice experience, 26 years of experience in our courthouse with over seven years as justice of the peace. During that time as your judge, I have presided over more than 35,000 cases and have pursued over 500 hours of judicial continuing education.

For the past three years, the Arizona Administrative Office of the Courts Education Services Division has asked me to join their faculty and provide advanced training for judges all across our state.
The Chief Justice of the AZ Supreme Court and our Coconino County Presiding Judge have assigned me to serve on several important policy making committees.
But besides those examples of my experience, it is also my 26 years of commitment, involvement and understanding of our diverse population across this precinct that rounds out my experience and gives me the ability to relate to all of our citizens.
What's the role of the justice of the peace in a small community?
The primary role of the Justice of the Peace is to bring fair justice to our citizens and help restore those in need.

Fair justice blends knowledge of the law, experience, compassion, and common sense in a supportive courtroom environment in which parties are given the opportunity to be fully heard.

In a rural court such as ours, another role is to stay well-connected with our communities. I have modeled that role, both at the courthouse and in my personal life, which has improved public trust in our court.
What changes, if any, do you think should be made in our local court system?

Since I took office in 2011, our court has met or exceeded every goal involving customer service, staff development, security, community partnerships and fair justice.
Our vision for the future includes the use of technology to manage and store our cases electronically, and improve customer service through the increased use of technology for online payments, electronic communications, and language translation.
Length of time living in Williams
26 years.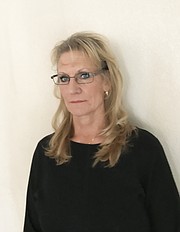 Annie Shumway
What experience qualifies you for justice of the peace?
I have 23 years of criminal justice/law enforcement experience with Maricopa County Sheriff's Office and the Phoenix Police Department.
In patrol, many duties include: field training officer, traffic civil and criminal, DUI, bank robberies, domestic violence, landlord-tenant disputes, felony pursuits, burglaries, homicides, etc.

Qualifying for the bike squad, I worked closer to the residences, organizing Neighborhood Watch, clearing drug houses, and as a S.R.O. (School Resource Officer) teaching G.R.E.A.T.

Detective promotion position I investigated property crimes, death investigations (in-custody homicides), suicides and sex offender notifications.
I have testified at grand juries, city court, Justice Court and superior court and understand court procedure. I have certificates in peer counseling program and critical incident stress management. View further qualifications at www.annieshumway4jp.com
What's the role of the justice of the peace in a small community?
Justice courts are the lowest of the courts deciding civil and misdemeanor cases, landlord/tenant disputes, small claims, PC search warrants etc.

The role includes authority and leadership with integrity, fairness and trustworthiness without bias. With authority you are held to a higher standard, to uphold the law and respect the rights of the people you serve.

As an elected official the voters elected you to serve in that position, it must be done with honor. Treating witnesses, victims, plaintiffs and defendants with respect and listening to what they have to say. Continue to learn and become knowledgeable of the laws and the changes.
What changes, if any, do you think should be made in our local court system?

In my opinion I think the court staff is efficient and knowledgeable of procedure. The changes I would like to see is less repeat offenders and juvenile first time offenders. I would like to have programs to counter the recidivism rate. I would like a follow-up program with community service with a positive outcome. I would like the court to have a reputation of being fair.
Length of time living in Coconino County

More than nine year as a barbershop business owner.
Editors note: Independent candidates' names do not appear on the primary ballot, but will compete with the primary winner in the general election Nov. 6.
More like this story