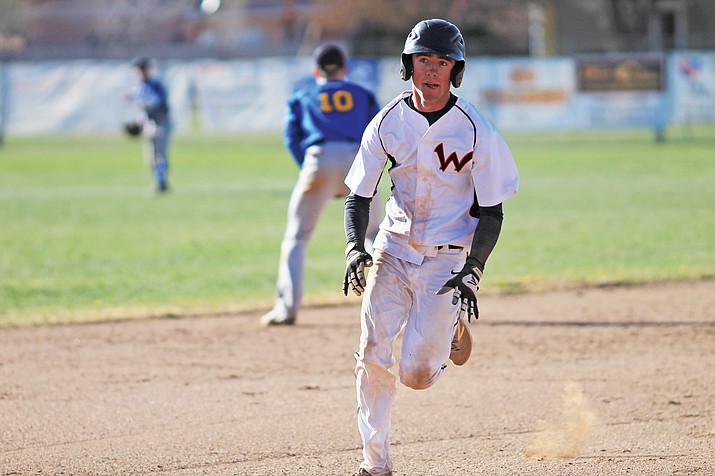 Photo by Wendy Howell.
Originally Published: April 24, 2018 12:53 p.m.
The Williams Vikings baseball team defeated rival Ash Fork in an away-and-home two-game series April 18-19, led by strong pitching and opportunistic offense.
In the opener at Ash Fork, the Vikings prevailed 20-2 as pitcher Frankie Kramer held the Spartans to two runs (zero earned) on just three hits, striking out 10.
The Vikings got on the board in the top of the first inning thanks to John Bryant's 2-run homer on a line drive to left. The Spartans then tied it at 2-2 in the second on a wind-altered popup that was misplayed in right field.
Williams managed to load the bases in the top of the third, but plated only one run following a double play. Ash Fork raised a scoring threat of its own in the bottom of the inning, but Kramer coaxed a ground-ball double play to preserve the 3-2 lead.
The nail-biter quickly turned into a blowout in the top of the fourth, as the Vikings brought 19 hitters to the plate, scoring 15 runs on nine hits (and aided by a handful of errors from the Spartans defense). Williams added two more runs in the fifth to bring the tally to 20, as Kramer kept the Spartans off the board the rest of the way.
Five Vikings batters, Carsten Brinkworth, Tate Grantham, Zack Perkins, Cody Jensen, and Bryant had two hits each on the day, while Grantham and Perkins scored four runs apiece. Williams baserunners also swiped 10 bags on the day, led by Brinkworth with four.
The following afternoon at Williams, the Vikings breezed to a 17-1 victory as pitcher Joe Zabala limited the Spartans to just one hit, striking out five and walking none.
The Vikings scored early and often, with two runs in the first and another four in the second. They added a single run in the fourth, before plating five in the fifth to secure the walk-off, mercy-rule victory. Williams was led on offense by leadoff batter Brinkworth, who scored three times on a pair of hits and a walk. Catcher Michael McNelly also cracked a double and scored a pair of runs.
After the game, Williams held its Senior Day festivities, honoring its four graduating student-athletes, Tate Grantham, Michael McNelly, Payce Mortensen and Zack Perkins.
Entering the final week of the regular season, the Vikings are ranked No. 6 in the 1A conference. They played Joseph City April 24 for the 1A Central Region crown (both teams had a 6-1 mark in region play heading into the game) before traveling to No.-1 ranked Bagdad April 25 for the regular season finale.