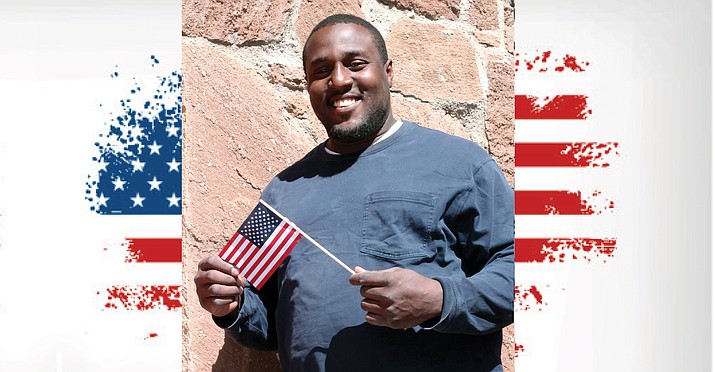 Originally Published: April 17, 2018 10:12 a.m.
It has been almost a decade since Lennox Mills arrived in the United States on a work visa. Later this year, he will take the oath of allegiance to become a U.S. citizen. He said the journey has been long and filled with hard work, culture shock and many experiences, but the end result is a blessing.
Lennox Mills said growing up in Kingston, Jamaica he didn't really think about the economy and the financial state of the country.
"I worked all the time but never with a legitimate job. There were side jobs and this and that, working for this person doing this but never a job where I go sign up with paper work," he said. "I never (thought about) the economy like that. My mom and pops always took care of stuff."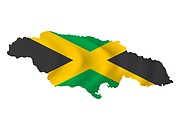 Mills lived about five minutes away from the U.S. Embassy in Kingston and for a while he used his personal car as a taxi. He also worked at odd jobs and helped his mom keep her corner store stocked.
"Life wasn't that bad, but I just think it could have been better for me," he said. "Mostly we just partied. You're just so free minded back there."
Although he said the common stereotype most Americans have about Jamaica is a misconception.
"Everybody don't have dreds and it's funny because most Jamaicans don't smoke marijuana. You can be like the black sheep of your family if you smoke weed," he laughed.
In 2009, at 22 years old, Mills was offered the opportunity to come to the U.S. on a work visa. He had been working at Guantanamo Bay, Cuba, for the U.S. military in a construction job. It was an election year in the U.S. and he said there was major concern that former president Barack Obama, would pull troops out of Guantanamo Bay, which would leave Mills jobless. That's when he decided to go to the U.S.

"It's a regular thing for (Jamaicans) to know someone that's leaving to go work," he said. "You make a dollar, send back a dollar which is going to be $60 (in Jamaica). So everyone multiplies their money."
Arriving in the United States
His first job was as a lift operator at Six Flags in Springfield, Massachusetts.
Upon arrival, Mills said he went through culture shock and said it took some time to become accustomed to how things were done here.
"Me and my friends we were kind of tripping out, we were like, 'I think we came off the plane too quick, this isn't America,'" he said. "We have this big expectation of what America should be or what it is. You come and it's like, 'I guess it's a regular place.'"
Mills said foreigners view the U.S. as a place of opportunity and prosperity, a place where you can excel and have a steady income.
"You can be better," he said. "You can be doing the same thing but if you do the work you can be better off. The expectation is that you're going to be okay. You're coming into somewhere that has peace, love and all that stuff. You can just get a job and work and just be good, you know. You're not thinking about anything bad because you're already here."

Mills said he wanted to help his family out financially, but since he was young, this wasn't the first thing he had on his mind. He was excited to start work and to make a good wage. He wanted to go shopping, buy nice clothes and see the sights.
There were also many surprises in the U.S. that Mills learned to adjust to, eventually.
"For me and my friends it was tax reductions, we didn't know what all that meant," he said. "We didn't know you couldn't buy a beer and walk (down the street). For me it was guys on the street corner, the homeless guys who were like, 'no, Jamaica man, you can't do this, you can't do that or if you want to do it you do it this way or that way' … It was a culture shock, a change."
Mills adjusted — he enjoyed his work and in 2009, he won Best Operator of the Year at Six Flags.
After six months his visa was extended and he went to Vermont where he worked for another six months at a ski resort in Vermont.
The path to citizenship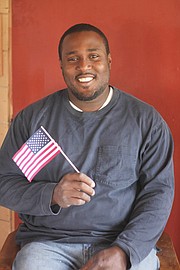 In 2012, still on an extended work visa, Mills transferred to Tusayan, where he was placed in housekeeping and then a kitchen position at the Holiday Inn Express.
It was around that time that Mills met his future wife, a Williams local, and the two were married later that year. After he married and his work visa expired, Mills applied and received a green card.
The green card or Permanent Resident Card, serves as proof that its holder, a lawful permanent resident, has been granted immigration benefits and permission to reside and be employed in the U.S. It allows you to live and work permanently in the United States.
Mills and his wife paid a fee and were both interviewed to ensure he would contribute to society and the U.S. economy.
"A green card is like you get a number saying they (immigration) will keep tabs on you. You're legal to be here and that's basically it. The end goal is to become a citizen," he said.
Within three years of receiving his green card Mills was eligible to apply for citizenship.
On April 2, he attended his citizenship interview where he answered questions about his background and about U.S. history, proving he knew the country's founding principles.
His final step to obtaining citizenship will be to attend an oath ceremony where he will pledge his allegiance to the U.S.
"I'm excited. I want to be here for my family. I have two boys now, so I have to be here," he said.
When he takes the oath it rescinds his Jamaican citizenship. He said renouncing his homeland is a hard thing.

"It kind of sucks but you know what you want, basically," he said. "For me as a Jamaican, America was always the place you wanted to go and I wanted to be. It's not going to change you as a person. You want to be in good standing with the U.S. and your home country because it is home. But I have my wife and kids here, this is home."
Mills said he is happy to call Williams home. It's where his family and friends are now.
"Williams is where I have had more friends, people are more friendly here than anywhere I've ever been before. It is a lot easier to talk to people and just be you," he said.
Mills said his employers, Kevin and Shirley Young have been extremely supportive and encouraged him throughout the process.
The Youngs said they are very proud of Mills.

"I was really amazed at him when I hired him. Lennox has worked really hard," Kevin said. "His personality — he loves to listen and he loves to be taught and mentored to learn new things. If he makes a mistake he'll ask me how to (fix it). He studied every day for the test and listened to this app and he felt like he got 100 percent. So we're proud to have him here in Williams and with us too. He's part of a team."

An American perspective
As Mills has walked through the last decade on his path to becoming a U.S. citizen, he has watched Americans and learned the customs and traditions of the country. He said the one thing he sees Americans take for granted is the rich culture in the U.S. along with the many options that are available and the ability to think independently.
"In Jamaica we don't have a culture (like that). Everyone is just one way because we all grew up with the same culture. While here you have a different cultures of people. I think that's great. A lot of options," he said. "Everyone is very welcoming. The best part for me is to give me a chance to be here and to work and to have my family."