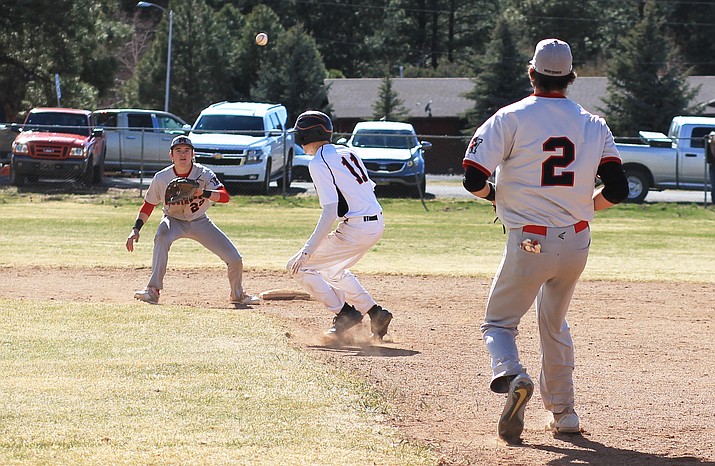 Originally Published: April 3, 2018 10:53 a.m.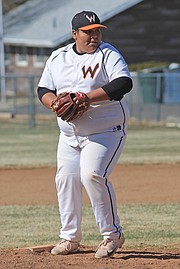 Mere hours after the release of the first state rankings of the season, the No. 8 Vikings baseball team took to their home field March 27 for an important twin bill against 1A Central Region rival and No. 9-ranked Mogollon, dropping the first game 13-11 before rallying for a 19-4 five-inning victory in the second.
In the opener, Vikings ace Frankie Kramer got two quick outs in the first inning before surrendering three unearned runs on a pair of errors. The Vikings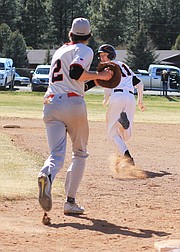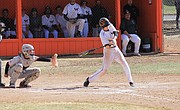 hitters responded with a single run in the second inning and four more in the third.
Mogollon then answered with a pair of runs in the fourth to knot the score at five, before tacking on five runs in the fifth and another three in the sixth, knocking Kramer out of the game as the pitch limit was reached.
Despite being down eight runs, the Vikings did not go quietly, mounting a six-run rally in the sixth inning to knock out Mogollon starter John Zent and get within two runs. Meanwhile, Vikings reliever Mario Martinez held the Mustangs at bay in the top of the seventh to keep the deficit at two.
Zain Grantham doubled to lead off the final inning, but the next three Vikings hitters struck out to extinguish the potential comeback attempt.
Martinez stayed on the mound for Williams in the second game, limiting Mogollon to a single run in the first. The Vikings batters then came alive in the bottom of the inning, exploding for 11 runs on seven hits. Following a scoreless top of the second, the Vikings added another six runs on five hits in the bottom of the inning.
Martinez ultimately made it through four innings, giving up four runs, before running up against the pitch limit. He was relieved by Zain Grantham, who pitched a 1-2-3 fifth inning to close out the 19-4 victory.
Overall on the day, the Vikings were led offensively by Payce Mortensen with four hits, followed by Tate Grantham, John Bryant, and Zain Grantham with three hits apiece. Zack Perkins and Kramer each had a triple, while Tate Grantham, Michael McNelly, John Bryant, and Zain Grantham each managed a double on the afternoon.
The Vikings are scheduled to travel to region-leading Joseph City April 5 before heading to the Valley for the Chandler Prep tournament at Tempe Diablo Complex April 6-8.