Originally Published: April 3, 2018 10:35 a.m.
Photo Gallery
Easter In The High Country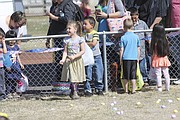 Family and friends enjoy the annual Easter Egg Hunt in Williams March 31. (Loretta Yerian/WGCN)
Family and friends watch as children participate in the annual Easter Egg Hunt at Cureton Park March 31 in Williams. The hunt was broken down into age groups in which the children were allowed to pick up eggs. Afterward families posed for pictures with the Easter Bunny.