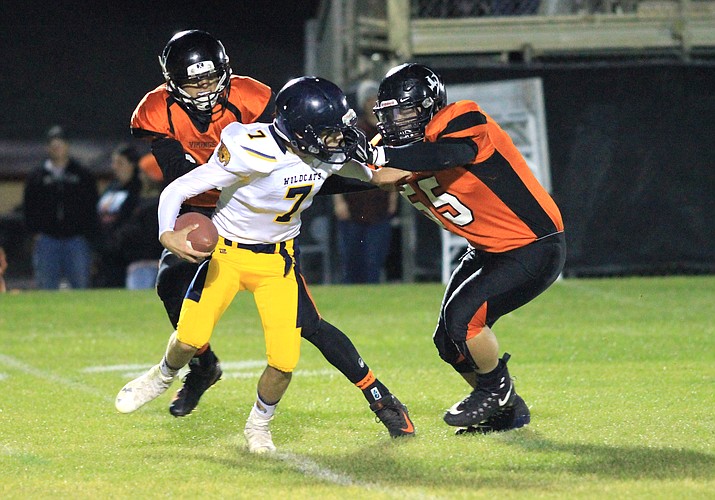 Photo by Wendy Howell.
Originally Published: September 26, 2017 4:55 p.m.
Click boxes for more photos
Photo Gallery
Lady Vikes Volleyball Sept.22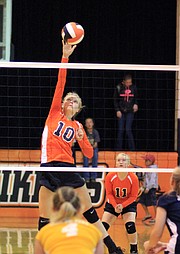 Photo Gallery
Vikings Football Homecoming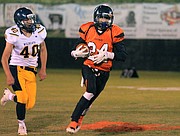 Williams Vikings volleyball and football teams rolled over Joseph City in homecoming games Sept. 22.
The Lady Vikes won in three sets, moving their region record to 4-2 and conference record to 6-3. The beat the Wildcats 25-18, 25-14 and 25-16.
The Vikings football team had no mercy for the Wildcats, bringing home a 72-0 win Friday night. The Vikings racked up 36 points in the first half of the first quarter and eased in 46 more points in the lopsided game.
Running back Chance Pearson carried the ball seven times for 165 yards. Quarterback Diego Pedraza completed seven of 10 passing attempts for 172 yards.
Pedraza ran the ball for 57 yards and was followed by Dorian Ayala with 35 yards and Kolby Payne for 33 yards.
Wide receiver Daniel Lopez caught five passes for 145 yards. David Lozano was four for five on extra-point kicks.
The Lady Vikes faced Cibecue Sept. 26 and are on the road against Grand Canyon Sept. 28.
The Vikings football team is on the road against Fredonia Sept. 30 and return to Williams for Senior Night against Greyhills Oct. 6.