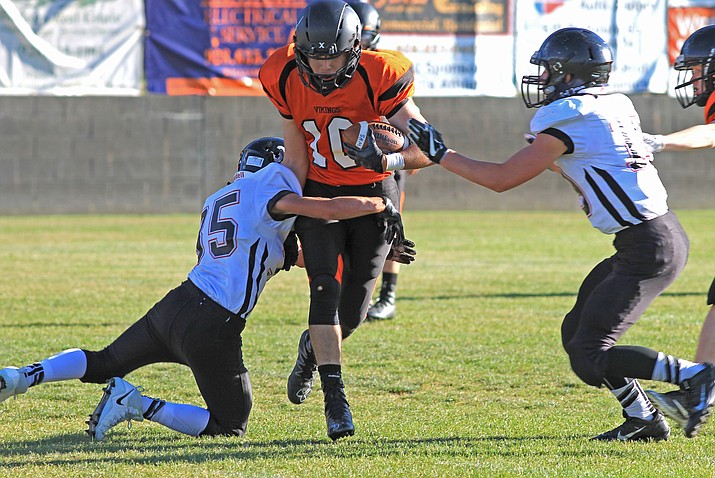 Photo by Wendy Howell.
Originally Published: September 19, 2017 10:57 a.m.
Click below for more photos
Photo Gallery
Vikings Junior Varsity V Mogollon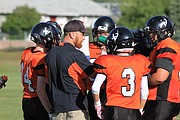 The Williams Vikings junior varsity team got a precursor to the tough Mogollon football program Sept. 12 where they pulled out a 38-22 win over the Mustangs.
The Vikings varsity team wasn't as successful as they faced the Mustangs Sept. 15 on the road where they lost 34-29.
In the varsity game, the Mustangs finished 14-8 at the end of the first quarter and headed to half-time leading 22-16. The third quarter was scoreless for the teams, but the Vikings pulled in 13 and the Mustangs 12 in the fourth.
Viking Daniel Lopez had three touchdowns, carrying the ball 18 times for 127 yards. Chance Pearson followed with one touchdown, carrying the ball 14 times for 122 yards.
Quarterback Diego Pedraza was 7 for 17 in passing for 95 yards.
For the defense, Pearson had five solo tackles and nine total tackles. Tate Grantham had four solo tackles and 10 total tackles, followed by Lopez with four tackles and nine total tackles. Grantham had one sack and Pearson had one interception. Zack Perkins had a fumble recovery.
David Lozano kicked four for 163 yards, averaging 41 yards.
The Vikings face Joseph City at 7 p.m. Sept. 22 in Williams for homecoming.
The Lady Vikes face Joseph City at 3, 4 and 5 p.m. Sept. 22 at home.