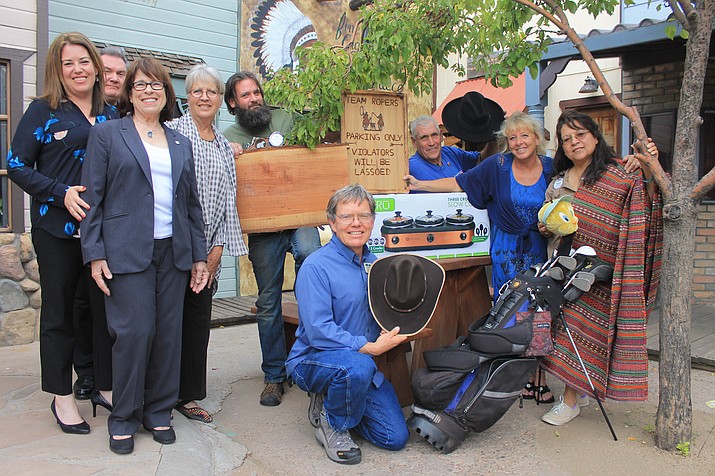 Photo by Wendy Howell.
Originally Published: September 12, 2017 11:31 a.m.
Williams Rotary Club's largest fundraising event of the year returns Oct. 28.
The 18th annual Western Auction raises money for Williams High School scholarships and other youth activities. The event is from 5 p.m. to 9 p.m. at Elephant Rocks Country Club pavilion, 2200 Country Club Road. Besides the auction, the event includes an evening of food and music along with a costume contest.
The Williams High School culinary arts class is catering the event.
Members have been canvassing businesses and are seeking donations and sponsors for the auction.
The auction is the main fundraiser for the scholarship program and youth activities in Williams, and according to Rotary Treasurer Patricia Helgeson, the funding amount is determined by community support. Some of the programs Rotary sponsors include the Williams Little League and the Williams High School mountain bike team. The group also sends students to the Salvation Army Camp and partners with the Kiwanis Club for the annual Community Holiday Dinner.
"The bulk of the fundraising goes to the scholarships," Helgeson said. "A smaller portion is used to support other youth programs such as Kindercamp."
This year the event will have a Halloween theme, with several prizes for unique costumes.
The Western Auction usually raises between $9,000 and $12,000 each year depending on donations.
"We're really looking for donations," said Rotary President Alan Duncan. "It can be from not just businesses, but private individuals who have lightly used valuable stuff. That stuff sells — exercise equipment does well."
The Western Auction will include a live auction, silent auction, and quarter auction.
For the quarter auction, each item is assigned a value, usually between one and eight quarters, and that is the amount required to bid on that item.
They also have an "all in" option that allows someone to participate in every quarter auction and a discounted rate for two paddles can be purchased.
Helgeson said usually several high school seniors along with several Rotarians will walk through Williams' business district to explain the purpose of the auction to business owners. However, membership is currently down with the Rotary and Helgeson is hoping to draw more members to help with the programs.
"This is our main fundraiser," Helgeson said. "Next year we are adding our new Kindercamp fundraiser to our roster. It's something our club has been working on for a few years. Our goal is to help support the Kindercamp and keep it going. As of 2018, they lose their fundraising."
Tickets for dinner only cost $35. Corporate tables for eight people are available for $270, but only a few are left.
"Youth and scholarships are a big focus of our program," Helgeson said. "With our two fundraisers we basically have book ends — we have the beginning of a student's career in Kindercamp and then the support we give them at the end of their high school career with scholarships."
The Rotary Club is still accepting donations for auction items and sponsors for the event. Those interested in donating or questions about the auction may contact Helgeson at (928) 607-1210.
More like this story