Photo by Loretta Yerian.
Originally Published: October 31, 2017 10:58 a.m.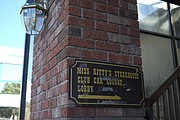 WILLIAMS, Ariz. —John Moore, owner of Wild West Junction in Williams, is leasing Miss Kitty's from Route 66 Hospitality LLC, who purchased the property Aug. 1.
Miss Kitty's is part of the Mountain Side Inn. Both properties are currently undergoing renovations and upgrades. Moore said he hopes to open the restaurant, bar and lounge around the end of the year. The restaurant will retain the name — Miss Kitty's. The hotel will be changed to a Red Roof Plus.
"We intend to take it back to, more or less, what it originally was," Moore said. "It was first built to be a cowboy type steakhouse, serving breakfast and probably lunch and dinner."
Moore said he is having the restaurant restored and cleaned. He plans to install new equipment in the kitchen and upgrade the dining room, saloon and lounge area.

Viral Patel, owner of the hotel and restaurant, said the LLC plans to complete renovations to the inside and outside of the hotel before it opens Nov. 8.
"What's nice about Miss Kitty's is it's big enough to handle larger groups. We can seat up to 250 people in one location. We'll be able to do weddings and special events,"

— John Moore, operator of Miss Kitty's restaurant and bar
"It's a complete gut out," Patel said. "We're just keeping the walls. Everything is new."
"(Miss Kitty's) is a great help — an extra amenity for the hotel. It'll be good for both us and for the hotel to become a full service hotel," Patel said.
Miss Kitty's will feature a steakhouse, full bar and saloon.
Timeline:
Hotel: Red Roof Plus will open Nov. 8.
Restaurant: Miss Kitty's will open around the end of December or first of January.
Location: 642 E Route 66, Williams. Near the intersection of E. Route 66 and N. Locust Street.
More like this story